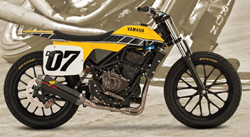 Great to see the manufacturer build a concept bike that takes us back to our youth. John Leach Owner Pete's Cycle
Baltimore, Maryland (PRWEB) November 03, 2015
Pete's Cycle is thrilled to add the Yamaha DT-07 to the sales floor. While the Yamaha FZ-07 performs well in flat track racing, the fabrication of a profound, new concept bike called the DT-07 was underway. "It features a race-tuned FZ-07 parallel-twin-cylinder engine with a custom exhaust system. Jeff Palhegyi Design and Yamaha's OEM race shop (US location) collaborated on the creation of this flat track concept bike." (dealernews.com)
"When the FZ-07 was first introduced, we knew that the bike's 'Crossplane Concept' parallel-twin engine had outstanding low- to mid-range torque, which is ideal for flat track racing," said Keith McCarty, Motorsports Racing Division manager for Yamaha. "Yamaha's history started in dirt track with Kenny Roberts, and we were quite successful in all those years, Keith explains. "Since that time, we haven't really had an engine configuration that could compete in that class against the present models. Then the FZ-07 came out with its offset twin and crossplane crankshaft, and we all know that dirt track is all about traction and control. You have a specified tire, so you need to put all that power to the ground. That firing order, as in roadracing, definitely lends itself to good traction. It lets the tire recover a bit." (Cycleworld.com) "Here in Cypress, we've been doing some exploration of our own, and the DT-07 Concept is the result," McCarty continued. "The FZ-07 is a great bike and also a great platform for customization. We wanted to see what we could do with the bike as a flat tracker, and we're very pleased with the results.
"The slick looking Yamaha DT-07 premiered at AIMExpo 2015 where Chris Carr commented "I know that they had been working on something for a while but to see the finished product, this concept, I'm ecstatic. It's good for the sport of flat track." Showcasing the special yellow and black "speedblock" livery design, the DT-07 commemorated Yamaha's 60th anniversary. "I would absolutely love to put a front brake on this and ride it through town!" claimed Carr.
The DT-07 features a purpose-built frame, swingarm with an adjustable pivot and link system, modified R6 conventional-style forks, and Ohlins rear shock, and wheels by Propulsion Labs. The FZ-07's compact, liquid-cooled, fuel-injected, twin-cylinder engine is the focal point of the machine.
"Time will tell if Yamaha develops this concept into a street-legal dirt tracker for the masses, though we would imagine if there's enough interest, they will. We'd certainly be keen to ride one, that's for sure,"- AutoSocio Channel (YouTube).