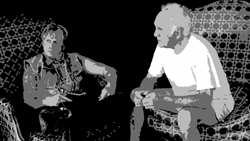 Ashland, Oregon (PRWEB) October 28, 2015
On December 1st, 2015, Escargot Books and Music partnering with Downpour.com, proudly presents HOG FEVER, an outrageously entertaining "Ear Movie", starring legendary Academy Award-nominated actor Terence Stamp. Lovers of audiobooks, serial podcasts, and anyone who cherishes the thrill of riding a Hog on the open road, will savor every episode of this wildly entertaining production, adapted from the bestselling book by Richard La Plante. This dark comedy of errors chronicles the story of Robert Lourdes, a man in the throes of midlife crisis, desperately searching for himself from the saddle of his motorcycle while reliving his misadventures from the sanctuary of his psychiatrist's couch. The brainchild of La Plante, brought to life by La Plante and ground-breaking music video director Kevin Godley, HOG FEVER is a full cast production created specifically for audio entertainment, complete with an original, rock n' roll soundtrack, including new songs "Flame On" by Daniel Ash and "Confession" by Kevin Godley.
HOG FEVER will be released as a free, streamable weekly serial for five consecutive weeks, and will be available via Blackstone Audio's direct-to-consumer site, Downpour.com. Each episode follows Robert Lourdes, a struggling American author on the cusp of forty. With his marriage on the rocks after Coco, his high-maintenance, screenwriter wife remorselessly steals his idea for a screenplay, Robert sets out to reinvent himself, turning to classic motorcycle films The Wild One and Easy Rider for inspiration and immersing himself in the Harley-Davidson legend. Following Robert as he seeks out shiny accessories, motorcycle rallies, and bigger Harleys, listeners will enjoy every leg of Robert's toot, tattoo and testosterone-fueled journey to reclaim his manhood and rise from the ashes a new man, rejuvenated by HOG FEVER.
The free podcast will be available for streaming at Downpour.com. Listeners who want to purchase all six episodes at once as a digital download or CD can do so at Downpour.com.
##
About Downpour
Downpour is an ecommerce subsidiary of Blackstone Audio, Inc., the producer of high-quality audiobook entertainment since 1987 and the largest independent audiobook publisher in the US. Downpour offers tens of thousands of the best audiobooks as digital downloads or on CD and MP3 CD and releases over 100 new audiobook titles a month. Learn more at http://www.Downpour.com.
About Terence Stamp
Terence Stamp is a prolific actor who began his career in 1962. He is well-known for his title role in Billy Budd, which earned him nominations for an Academy Award and a BAFTA Award. Other notable film credits include The Collector, Superman, and Valkyrie.
About Richard La Plante
RICHARD LA PLANTE is a musician, songwriter and the bestselling author of eight novels and two memoirs, including Hog Fever, upon which this fictionalized Ear Movie is based.
About Kevin Godley
KEVIN GODLEY is an English musician, writer, artist, inventor, and award-winning music video director. He was a founder member of Art Rock band 10cc and Godley & Creme. His music video credits include tracks by the Beatles, U2, Peter Gabriel, Sting, Keane, Eric Clapton, Snow Patrol, Alabama 3, and Lou Reed. He is also the founder of WholeWorldBand, an audio/video music collaboration app.
PUBLICATION INFORMATION
Title: Hog Fever: An Ear Movie
By: Richard La Plante and Kevin Godley
Producer: Escargot Books and Music
Release Date: December 1, 2015
Price and ISBN: Retail CD; 978-1-5046-5711-2; $24.95
MP3 CD; 978-1-5046-5711-2; $19.95
Library CD; 978-1-5046-5709-9; $30.00
Digital Download; 978-1-5046-5708-2; $13.95
Music produced by: Greg Penny and Ash and Goodrum
Performed by: Terence Stamp and a full cast