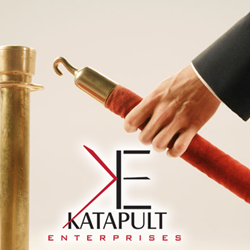 "As technology advances with a smartphone in every hand, so should our advertising strategies." Dr. ZoeLena Shuster, President & Founder, Katapult Enterprises
New York, NY (PRWEB) October 26, 2015
With the holiday season around the corner, the most vital time of the year for a brand's online presence to be up to par is upon us. Katapult Enterprises is a company providing in-depth branding services and naturally now is when they're at their busiest. Once again this Fall, brands are choosing to "Katapult" themselves onto the right path and now the company is expanding their team to meet the high demand.
Katapult sees a wide range of clientele, from physical products to services, corporations to entrepreneurs, all with a common goal: creating or improving a brand.
With a list of services to include responsive web design, logo creation, graphic design, social media platform building and management, ad campaigns, PR and distribution, lead capture, email marketing and more, along with a "dream team" of talented experts bringing these visions to life, it's no wonder this company is the logical choice. And now with their ever-growing clientele, Katapult is adding more qualified individuals to this team.
Katapult Enterprises' President & Founder Dr. ZoeLena Shuster says, "The current marketplace is ever-changing. As technology advances with a smartphone in every hand, so should our advertising strategies. Social Currency and relevance online are today's brands' success factor. Katapult prides itself on a balance of quality business relationships with our clients and staying on the cutting-edge of digital marketing.".
To learn more about Katapult Enterprises and the services they offer, visit KatapultEnt.com or call 1.844.LIVE.VIP