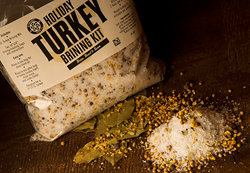 Brine, Roast & Serve The Juiciest Turkey Ever!
Denver, CO (PRWEB) October 27, 2015
Savory Spice Shop, the leader in fresh-ground spices and seasonings, has released a new Holiday Turkey Brining Kit, which is now available in-stores nationwide or online – just in time for the holiday season.
"A lot of customers hear they should brine a turkey for more flavorful and juicier results. But many tell us they don't know how to go about it or are intimidated by the process," said Mike Johnston, Savory Spice Shop Founder. "So we designed this new kit to make turkey brining as easy as possible."
Savory's Holiday Turkey Brining Kit includes an easy-to-use Turkey Brining Mix plus two Brining & Roasting Bags, all designed to keep a holiday turkey moist and tender. The brining mix contains a blend of garlic, salt, sugar, coriander, lemon & orange peel, allspice berries, and bay leaves – just the right amount of seasoning to brine a 12-15 lb. turkey.
Customers can brine the turkey in one bag, which keeps the brining liquid contained and allows for an easy clean-up. The second bag can be used for roasting the turkey, so it stays tender and basted while cooking.
The new Holiday Turkey Brining Kit is available now – just in time to help create a flavorful and juicy turkey for any holiday feast!
Founded in 2004, Savory Spice is a collection of locally owned and operated community spice shops across the country. From the griller to the gourmet chef, Savory Spice is a shop for every type of cook. Savory Spice takes great pride in offering high quality and hard-to-find items at prices that average lower than most grocery stores.
Savory Spice offers over 500 freshly ground herbs and spices, and over 175 handcrafted seasonings. Savory Spice is known as a "Cook's Paradise", catering to experienced and aspiring cooks alike and has developed a loyal following across the country with locations in sixteen states.
For more information regarding Savory Spice please contact Chris Billings at (303) 297-1833