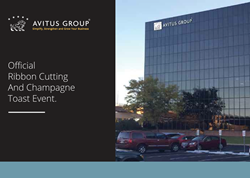 We're excited to be part of the Aurora community and to provide so many good-paying jobs that support the local economy.
Aurora, Colorado (PRWEB) December 08, 2015
"Our company has grown rapidly to one of the top 20 largest in our co-employment industry. We have found it necessary to have a corporate presence in the greater Denver area, giving us access to a larger population-base from which to hire," says Avitus Group Public Relations Manager, Dianne Parker. "Billings, Montana will always be the place we proudly founded our company nearly 20 years ago. We will continue to hire staff in our Billings Operations Center as we begin to hire staff in Aurora."
Avitus Group, a company that helps simplify, strengthen and grow other companies by taking responsibility for necessary, yet burdensome administrative tasks, like payroll, accounting and taxes, made the move official in December, 2015 with a custom build out of Aurora's most prominent and visible building along the I-225 corridor. Avitus Group's new Aurora Corporate Headquarters is located at 3131 S Vaughn Way Suite 400, in Cherry Creek Place and boasts 11,000+ square feet with room to nearly double the square footage by 2018. The construction project is expected to wrap up in January of 2016, and staff is expected to move in shortly after. An official ribbon cutting and champagne toast, in partnership with the Aurora Economic Development Council, is slated for February 4, 2016. The Colorado business community is invited.
"Aurora is proud that Avitus Group selected our city to establish its new corporate headquarters," says Mayor Steve Hogan. "We look forward to working with Avitus Group for many years to come."
"We're excited to be part of the Aurora community and to provide so many good-paying jobs that support the local economy," says President of Avitus Payroll Services, Inc. and Avitus Business Services, Inc., Ken Balster.
State and local incentives helped attract Avitus Group's headquarters. The incentive terms are performance-based and call for the company to hire at least 175 employees in Aurora over the next decade.
"Avitus Group has an aggressive growth strategy that includes tapping into the Colorado labor market. We plan to exceed the hiring numbers required by the incentive package to bring additional, quality jobs to Colorado. Conservatively, we plan to hire 40 to 50 employees each year for the next several years," says Avitus Group CEO and Chairman of the Board of Directors, Willie Chrans. "We expect to employ at least 200 staff members at our Aurora corporate headquarters within the next 5 years. We anticipate more than doubling that number to nearly 500 over the next decade."
Avitus Group has already begun hiring, and plans to hire about 40 employees over the next 12 months. The company expects to hire an additional 40 employees in 2017. More than 20 existing staff members in Denver are moving to the corporate headquarters, as well as the company's CEO, Willie Chrans. Staff positions include accounting, payroll, tax preparation and sales staff.
"It is our privilege to work with Avitus Group and show them the numerous assets Aurora has to offer," commented Aurora Economic Development Council President and CEO Wendy Mitchell. "Aurora's diverse and talented workforce, for example, will fulfill the demand Avitus Group needs to meet."
"Our largest client-bases are in Colorado, California and Montana. We carefully considered numerous locations in all three states before selecting Aurora as our new corporate headquarters. Aurora is the ideal location for Avitus Group as we grow and expand, and we're excited about the vibrant workforce in Aurora and its relative close proximity to our Billings Operations Center," says President of Avitus Group, Inc., Don Reile.
"The prime office space is located near the Tech Center with quick access to DIA, has close proximity to an existing light rail station and the expanding line and has room for expansion. It is a prime location for us," says Avitus Group's Denver-based Senior Executive Marketing Specialist," Chris Balster.
Avitus Group is a worldwide company. Avitus Group simplifies, strengthens and grows businesses by providing 'back office' support (Payroll, accounting, taxes, recruiting, information technology, etc.). When a business uses Avitus Group, all of the necessary yet burdensome functions of the business become Avitus Group's responsibility, so the business can focus on what it does best. Avitus Group serves clients nationwide through regional office locations from coast to coast. The company also serves international clients through partner locations in Europe, Canada, China, England, India, Japan and Singapore.