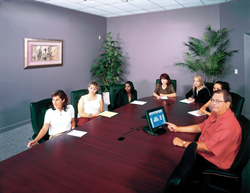 El Monte, CA (PRWEB) October 28, 2015
The best communication occurs when someone is SEEN and heard. Proper lighting ensures that a clearly defined image will be transmitted so no detail of the conversation is lost. Clear facial viewing can mean the difference between knowing what was said, or guessing at what it sounded like. Studies show we receive and understand spoken communication through:

7% of meaning in the words that are spoken.
38% of meaning is the way that the words are said.
55% of meaning is in FACIAL EXPRESSION.
Broadcasting the finest image should be the goal, however, lighting people properly to ensure a superior broadcast image should start early in the design process.
Let's start at the end. Function. How will the room be utilized? As ONLY a Video Conference (VC) room with camera and viewing screens? Also a standard conference room? Training room? Speaker podium? White Board? Most conference rooms preform multi-purposes so consider all of the events that may occur in the room so the final layout will work for its intended functions.
A typical, basic, multi-use room (Image 1) may incorporate: 1) Camera and Screen(s) that are usually at the front of the room at eye level with the conferees; 2) Broadcast equipment that is often located at the front of the room; 3) A Speaker/Podium if required would ordinarily be located to one side at the front of the room, not blocking the Screen or Camera; 4) A White Board may be located on a side wall for training; 5) Table and chairs. Some more complex rooms with more intricate broadcasts may also have a second camera at the back of the room, zoomed in and following the speaker.
Once the layout of the VC room has been resolved, the most important goal is the broadcast image. Superior results will be realized if designers remember that it's all about the FACES:
F - Finishes - to Light
A - Angle - of the Light
C - Control - of the Light
E - Effective – levels of Light - equals a
S - Superior Image
Reflectance percentages, light levels and lighting ratio recommendations below adhere to the new InfoComm/IES (Illuminating Engineering Society) lighting recommendations.
Finishes for all surfaces in camera view must be considered, walls, ceiling, floor and furniture. Ideally NO specular finishes should be used on anything that may be in the camera frame. Even "White Boards" can be ordered in grey with low gloss finishes. Walls should have utmost consideration since they serve as a back-drop for the entire scene. Fully saturated colors along with black, orange, yellow, green and red should all be avoided because of contrast levels and the color reflectance from surfaces can affect the perceived color of facial tones. Grays, beiges, blues and mauves with 40 to 60 percent reflectance are preferred. Patterns and stripes can result in backgrounds that are too busy and distracting can degrade the transmitted image. Large, solid graphic images such as logos are fine. Ceilings should have 70 to 90 percent reflectance while the floors should be less than 60 percent. Any windows in the space should have black-out curtains when video conferencing with the interior finish utilizing the same considerations as the wall finishes. Furniture should follow similar guidelines, monolithic, neutral colors such as gray, buff, taupe, and lighter with 20 to 60 percent reflectance and no specular finishes should be standard.
The Angle of the light on conference participants is critical. Recommendations are based on long time standards of studio lighting with Key, Fill and Back lighting. The correct angle of light delivered by Key or Fill lighting luminaires that are illuminating the face should be at a 45 to 60 degree angle to eliminate harsh shadowing because of facial features (Image 2). Standard down lights throwing light directly down will cause dark eye sockets and severe nose and neck shadowing resulting in an unclear view of the various features that provide clarity during an interaction. Walls should be smoothly illuminated without severe striations or distracting scallops of light and should offer separation from the conferees and the background.
Control of the lighting in separate "zones" (Image 3) using a scene preset control system affords the versatility necessary to provide multiple lighting scenarios. All lighting in the room used for video conferencing should be dimmable to achieve appropriate lighting levels. Many luminaires used for VC lighting can also be used for general meetings so two separate lighting systems are unnecessary. A basic multi-purpose VC room may require as many as (7) separate zones of control to create the desired levels for different events. Zones 1 and 2, with VC fixtures, would be dimmed to different levels to provide even light levels on all the conference participants. Lighting in these Zones can be much more comfortable for the participants if there is no direct lamp visibility from the fixture so shielding through lensing or indirect optical designs are preferred. The Speaker Zone 3 and White Board Zone 4, with asymmetric wall wash style fixtures, would only be brighter when appropriate. During standard video conferencing without a speaker, Zone 3 and Zone 7 wall washers would be off and the Zones 4, 5 and 6 wall washers would be dimmed to similar levels.
Effective light levels and lighting ratios must be achieved for the most successful broadcasting. Lighting industry standards recommend a lamp color temperature of 3000-3500K for these types of rooms. Vertical light levels on the face delivered from the correct angle should be between 200-500 lux (20-50 fc) depending on the quality of the camera. Uniformity along all faces should be 1.5: 1 max/min. The illumination ratios from Face to the Back or Side Walls should be within 2:1, at 200-400 lux (20-40 fc) with a 1.5: 1 max/min across the wall. Illuminance levels on the Front wall can make or break the functionality of the space. Luminaries should not throw light onto the Screen or Camera at the front of the room. Less than 200 lux (20 fc) should fall on that area to avoid Screen wash out or glare in the camera lens. The freedom of separately dimming each Zone will allow the user to achieve the correct lighting levels and ratios desired. Don't forget to get the dimming system commissioned so it functions properly. A manufacturer's designated representative will ensure the dimming system is working to specifications. The cost should be included in the price of the dimming equipment.
Finally, a Superior Image will be transmitted if the designer has planned for properly lighting the F.A.C.E. in the steps above. ELP Lighting has been manufacturing Video Conferencing luminaires since 2000. The VT Series along with the IW and AK Series wall washers have been helping to transmit great images all over the world for over 15 years. As technology in communication advance, so will Video Conference lighting design.
Those interested in additional information on this release or ELP Lighting Video Conference fixtures can contact ELP's knowledgeable, LC certified design staff at 1-626-579-0943 or visit the website at http://www.elplighting.com.