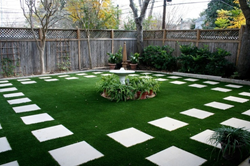 With parts of our country experiencing devastating drought, EasyTurf is an ideal landscaping solution.
Chicago, Illinois (PRWEB) October 28, 2015
EasyTurf is scheduled to showcase their industry leading synthetic turf at the 2015 ASLA (American Society of Landscape Architects) Expo beginning November 6th at McCormick Place in Chicago.
The ASLA Expo is the largest gathering of landscape architecture professionals and students in the world, while McCormick Place is the largest convention center in North America. The Expo will feature over 400 exhibits as well as more than 130 education sessions. The event is designed to promote the newest and most innovative products in the landscaping industry, including EasyTurf.
"It is an honor to be exhibiting at the 2015 ASLA Expo," said Steve Haber, CEO of EasyTurf. "ASLA is an incredible opportunity to explore advances in the industry, especially where green products are concerned."
EasyTurf's low-maintenance synthetic turf products are likely to appeal to landscape architects who value conservation of natural resources.
"With parts of our country experiencing devastating drought, EasyTurf is an ideal landscaping solution," continued Haber. "Many landscape architects have already experienced the water-saving benefits of installing artificial grass. We hope to meet more of them at ASLA to provide education on how EasyTurf can help their communities conserve water."
As the most practical alternative to natural grass available, EasyTurf creates a safe, clean, and durable environment while significantly reducing the need for watering. EasyTurf's all-weather surface, with its 100 percent permeable backing, allows for swift drainage, keeping community areas free of bacteria and odor. Even amid the heavy rainfall that many cities are hoping for, the turf will drain more quickly than natural grass would. EasyTurf is already brightening and beautifying courtyards, playgrounds, municipal parks, play and practice fields, resorts and hotels, schools and universities, apartments and homes throughout North America.
For more information on the ASLA Expo, please visit http://www.aslameeting2015.com.
About EasyTurf®
EasyTurf, a FieldTurf® company, provides environmentally friendly residential and commercial lawns, recreational fields, playgrounds, putting greens, and conservation plans for communities throughout North America. The state-of-the-art turf offers realism, drainage, and durability for both residential and commercial applications. EasyTurf is based in Vista, Calif. (northern San Diego County). More information is available at http://www.easyturf.com or by calling (866) 352-0233.