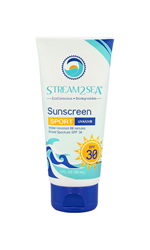 Stream2Sea introduces new sunscreen products that are biodegradable, mineral-based, designed for high-performance and safe for oceans.
Wauchula, Florida (PRWEB) October 27, 2015
When the Washington Post and Time magazine both published articles warning about sunscreens killing coral reefs, it didn't surprise Stream2Sea founder Autumn Blum. "The damage caused by benzophenone (also known as oxybenzone) had already been documented in previous reports," she said. "The really big thing with this latest research was that such a tiny concentration could cause such extensive damage and the multiple ways it impacted coral reefs." Miniscule concentrations -- about 62 parts per trillion -- damaged nearly half of the coral larva exposed to it in a lab setting and researchers documented significantly higher concentrations in waters near reefs in Hawaii and the Virgin Islands.
An award-winning cosmetic chemist, Blum introduces a new eco-safe alternative in sunscreen that exceeds the current "coral reef safe" standards. The two new skus, Sunscreen for Body with SPF 30 and Sunscreen for Face & Body with SPF 20, are both biodegradable, mineral-based and designed for high-performance with water resistance for 80 minutes of swimming or activity. With a potent antioxidant blend of Green Tea, Tulsi, Wakame and Olive leaf, the formula is non greasy and won't burn eyes.
After learning that common cosmetic ingredients were killing coral reefs, she was surprised to find out how many other ingredients were toxic in marine ecosystems. Research on other ingredients was so sadly lacking that Blum teamed up with researchers from Eckerd College in St. Petersburg – her alma mater – to conduct a series of pioneering tests on organisms ranging from the microscopic C. elegans to several fish species and live coral larva collected in the Florida Keys.
After hundreds of hours of research and reformulations, nematodes and freshwater fish came through with flying colors -- but the more-vulnerable coral larva posed even greater challenges. Eckerd Professor Dr. Koty Sharp and a team of divers collected coral at Mote Marine's Tropical Research Station on Summerland Key. When the corals released larvae, they were placed into dishes with substrates proven to attract them.
"We've been working with the Smithsonian Institution researchers to identify different processes and organisms that allow for successful recruitment of coral larvae – and some of them are very picky," Sharp said. "While other sunscreens with benzophenones did appear to inhibit recruitment, we did not find any evidence for statistically significant lethal toxicity to the larvae or for statistically significant inhibition of settlement in the larvae with Stream2Sea products."
Blum is reluctant to use the term "reef safe" because there are too many variables to make an absolute statement without prohibitively expensive testing. "For instance, common ingredients that we would never use – like parabens, cinnamates and camphor derivatives – stimulate dormant viral infections in the symbiotic algae that provide nutrients to coral. There's no way to test all ingredients on all the phytoplankton, tiny crustaceans and micro-organisms that live with coral and are important to a healthy reef."
Stream2Sea has set a new standard for EcoConscious sunscreen and skincare. Along with standard human safety and SPF tests, Stream2Sea products are proven to be biodegradable in both salt and fresh water. They also successfully passed the most comprehensive series of aquatic toxicity tests documented in literature using real-world concentrations on organisms ranging from the microscopic C. elegans to fish and vulnerable coral larva. Formulated with powerful antioxidant blends to protect skin from sun damage, includes sunscreens, conditioning shampoo and body wash, leave-in conditioner, nourishing body lotion and lip balms. Stream2Sea products are currently available online at http://www.Stream2Sea.com or ask for them at your favorite health food store, dive shop or outdoor retailer. Friend us on Facebook or call (866) 960-9513.
###