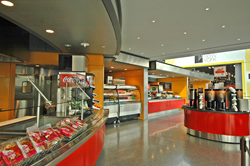 "We are thrilled for our client and guests who now enjoy an elevated hospitality experience!" -- Des Hague, Co-Founder of Aegis Enterprises and Partner of WC&A.
(PRWEB) October 29, 2015
Des Hague, Co-Founder of Aegis Enterprises and Partner of WC&A, is pleased to announce he will be on the FCSI Sponsored Project Showcase Panel at HX: The Hotel Experience – Rooms to Restaurants, Nov. 8 at the Jacob K. Javits Convention Center, New York, NY at 1 PM. http://www.thehotelexperience.us/. Hague has spent the last six years managing hospitality at many of North America's convention centers and is now a Partner of WC&A, a hospitality design company that has executed over 12,000 projects globally since its founding in 1986.
Topic of the panel discussion: What does it take to stand out in today's market? WC&A's work at Javits Center is one of three FCSI Project Showcase winners who have been invited to contemplate a foodservice project need and how to transform it to yield bottom line dividends for end-users and owners. WC&A was specifically recognized for its design and execution of plans for the renovation of the iconic Crystal Palace at Javits Center.
WC&A's objective during the recent $465 million renovation at Javits Convention Center, the world's busiest convention center, was to enhance the "Crystal Palace" public space with a world class food and beverage venue. Foodservice design/equipment budget was $1.5 million.
"WC&A worked intimately with all partners, mainly Alan Steele and his entire staff at the Jacob K. Javits facility,Architects Bruce Fowle and Nicolas Ryan of FXFowle Epstein/Javits II Architecture / New York and Centerplate, the hospitality provider at the center," stated Bill Caruso, WC&A Founding Partner.
"We believe that the 'Crystal Palace Marketplace' retail center created a unique/one of a kind shopping and dining facility in the convention center world," said WC&A Partner and Director of Design, Steve Young. "It is unique in its prime location, style, and food offerings it provides. Flanked by guest seating that overlooks vast, glass enclosed I.M. Pei designed glass atrium of the Javits Center in downtown New York City, it created an 'excitement area' amidst the convention check-in and registration areas in this busy center."
The Crystal Palace Marketplace provides a variety of menu offerings. Menu types range from fresh to-order grilled and cooked items to prepared hot and cold entrée dishes. Locally sourced products, organic and health choice offering options are available. Actions stations provide meals throughout the marketplace and include Celebrity Chef Roberto Santibanez' Pulled Pork and Chicken Milanese Tortas. There is a grill, deli, pizza/pasta station, cold food/salad bar, entrée/specials of the day space, prepackaged dry and refrigerated grab and go, and hot and cold beverages.
"Crystal Palace Marketplace continues to outperform its budgets since its opening and has been hailed by meeting planners and guests alike as a 'dining haven' amidst the bustling milieu of this architecturally historical center," remarked Hague, "and we are thrilled for our client and guests who now enjoy an elevated hospitality experience." "I've had a vested interest in the success of the Javits Center for several years," continued Hague, "and I am delighted that WC&A is being recognized for the significant contribution the team has made on this project. The real joy will be seeing how the facility evolves its overall event hospitality offering during the years to come."
About WC&A, Inc.:
William Caruso & Associates, Inc. specializes in commercial food/beverage and laundry facilities planning and design services. Headquartered in Denver with offices in Athens, Berlin, Duesseldorf, Philadelphia, San Francisco and Scottsdale, WC&A has completed over 12,000 projects in 22 countries, an unmatched record in a very specialized industry. WC&A's diverse project portfolio includes completed food and laundry service facilities for hotels, universities, schools, correctional systems, hospitals, corporate headquarters, convention centers, stadiums, arenas, and others.
For more information about WC&A: http://www.wcarusoassoc.com
Contact: Renate Siekmann
William Caruso & Associates, Inc.
8055 East Tufts Avenue, Suite 1320, Denver, CO 80237
Phone: 303.649.1600 x211
Email: rsiekmann(at)wcarusoassoc.com
About Des Hague
A renowned executive with over twenty-five years of leading global public and private companies, Des Hague has established himself as an innovative thinker in the international business world. His forward-thinking approach pushes companies toward sustainable growth, granting them a position as resilient competitors within their respective industries. Hague most recently was the CEO and President of Centerplate, Inc, the largest event hospitality firm in North America (source: http://deshague.com). Hague also serves on the boards of DVETelepresence, PING HD, WC&A, Inc, and the Stamford Youth Foundation along with advising on several start-up ventures.
Along with his professional projects, Des Hague contributes significant amounts of time and energy to non-profit charitable work. Hague has helped raise more than $100 million over the past few years for many non-profits, including the Stamford Youth Foundation, a local organization offering multiple after-school programs for young people, and The Journey Home, a Baltimore-based Foundation fighting homelessness. Hague views AEGIS Enterprises, LLC. as a perfect blending of business and philanthropic activities.
For more about Des Hague, visit: http://deshague.com, http://deshaguereviews.com
Des Hague - LinkedIn : https://www.linkedin.com/in/deshague
Contact:
DesHague.com
EMail: deshague(at)aegisenterprisesllc.com