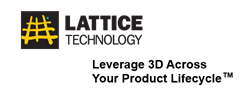 This event is a natural fit for Lattice Technology as many of our solutions are focused on increasing the quality and productivity of the assembly process.
Denver, CO (PRWEB) October 27, 2015
Lattice Technology, Inc., an industry leader of technical communication software for the manufacturing industry, is attending The Assembly Show from October 27-29 in Rosemont, Illinois at the Donald E. Stephens Convention Center. Ideal for companies that produce products with high part counts and complexity, Lattice Technology's products increase productivity and enable streamlined assembly operations.
"We are pleased to participate in The Assembly Show for the first time. This event is a natural fit for Lattice Technology as many of our solutions are focused on increasing the quality and productivity of the assembly process," explained Bill Barnes, General Manager, Lattice Technology. "The more parts and more complicated the assembly process, the more value we can bring the company."
Benefits of Lattice Technology's interactive, animated work instructions:

Assembly training time is reduced. With interactive 3D, minimal or no language is needed, as images are understood in all languages.
Human errors are reduced with step-by-step images and animations that clearly demonstrate work processes.
Instructions maintain their accuracy with product changes, saving time and improving quality.
A Lattice Technology work instruction may include a few steps or it may include hundreds. Each step includes the related 3D interactive part model with a description of the action required. Animation can also be included, which reduces the textual description, simplifies the instructions, and reduces errors and training time—all while increasing productivity.
Many solutions on the market today do not effectively handle very large assemblies. They take too long to load, or they simply can't be loaded; therefore, the product has to be split into multiple files.
"Because Lattice3D models are accurate and ultra-lightweight—usually one-half of one percent of the native CAD model—our solutions can easily handle ultra-large assemblies." Barnes concluded, "With Lattice 3D, even assemblies with thousands and thousands of parts can be access and examined using a standard laptop or tablet."
Today's technical communications solutions with Lattice Technology feature:

Complete product definition is repurposed from virtually any CAD system—part geometry and meta data.
Associative updates. When a change occurs upstream, updates are clearly identified with options for managing.
An easy-to-use authoring tool (no CAD experience is required) that automates as much of the process.
Numerous FREE options for using or consuming work instructions, including mobile devices.
About Lattice Technology, Inc.
Lattice Technology's powerful software tools set the standard for technical communication for the manufacturing enterprise. Using Lattice Technology solutions, engineers and non-engineers alike can easily simulate assembly processes and create work instructions or technical illustrations—directly from 3D engineering data. Solutions from Lattice Technology benefit companies who produce products with high part counts, complex geometry, detailed manufacturing processes or any ongoing lifecycle support requirements such as documentation, maintenance, and training. Target industries range from those developing large products such as airplanes and automobiles to small, complex machinery and medical devices. Founded in 1997, Lattice Technology, Inc. is headquartered in Tokyo, Japan and Denver, CO, USA. For more information, visit http://www.lattice3d.com.
All trademarks are the property of their respective owner. ™ and ® denote registered trademarks in the United States and other countries.