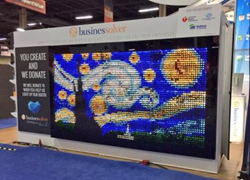 In alignment with our movement to 'See Things Differently,' we wanted to create a different experience at the HR Technology Conference & Exposition this year
WEST DES MOINES, IA (PRWEB) October 27, 2015
This year at the 18th Annual HR Technology Conference & Exposition, Businessolver, a benefits technology partner founded by HR professionals, raised $2,000 for Habitat for Humanity through their #TechWithHeart campaign.
Businessolver made charitable donations on behalf of participants who stopped by the booth and scanned their badge in an interactive display - contributing to a life-sized Lite-Brite that revealed a Vincent Van Gogh favorite. Attendees had the opportunity to vote for the charity they wished to receive the donations. The donations were doubled when attendees shared their experience on social media using the hashtag #TechWithHeart.
"In alignment with our movement to 'See Things Differently,' we wanted to create a different experience at the HR Technology Conference & Exposition this year," said Rae Shanahan, Businessolver Chief Strategy Officer. "Instead of spending money on wasteful giveaways, we wanted to create an experience that mattered to people and that they could be proud to interact with."
The winning charity, Habitat for Humanity, has a vision to create a world where everyone has a decent place to live. Habitat for Humanity will use the money to support local families on their paths to homeownership, furthering their goal to bring people together to build homes, communities and hope.
"We are excited to be chosen as the recipient of Businessolver's #TechWithHeart campaign," said Jenna Ekstrom, Greater Des Moines Habitat for Humanity Director of Marketing & Development. "Habitat works in partnership with hard-working families to help them become self-sufficient. With the support of partners like Businessolver, we are able to work with families and break the cycle of poverty for the next generation."
"We are excited to have created an experience that matters. An experience with heart. An experience that people can say they were proud to be a part of. That is how we see things differently at Businessolver," says Shanahan.
###
About Businessolver: Since 1998 Businessolver has delivered market-changing benefits administration technology supported by an intrinsic responsiveness to client needs. It creates client programs that maximize benefit program investment, minimize risk exposure, and engage employees with easy-to-use solutions and communication tools to assist them in making wise and cost-efficient benefit selections. Founded and developed by HR professionals, Businessolver's unwavering service-oriented culture and secure SaaS platform provides measurable success in its mission to provide complete client delight.
For more information, please contact:
Sam Randall
sam.randall(at)edelman.com
(312) 240-2771