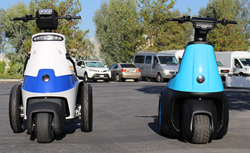 We are tremendously honored to be the recipient of the 9/11 Personal Security Transportation award
Brea, CA (PRWEB) October 27, 2015
T3 Motion, Inc. (OTC: TTTM), the global leader in the design and delivery of electric vehicles to the commercial, law enforcement, and security markets, announced the company's latest honor, the "9/11 Transportation Security Enterprise Award" from the Morrone 9/11 Center for Counter Terrorism and Public Safety. T3 Motion's all-electric patrol vehicles, the T3 Patroller and T3 Vision, were recognized as the winner of the "Personal Security Transportation—U.S." award for their daily role in counter terrorism and public safety patrols.
The International Police and Public Safety Medal Ceremony was held at the International Association of Chiefs of Police (IACP) conference in Chicago, IL on Friday, October 23, 2015. T3 Motion, Inc.'s new Director of Business Development, Jay Whitt, received the prestigious award on behalf of the company.
The 2015 9/11 Awards recognized 13 global companies who have revolutionized public safety initiatives. To support the goals of the Morrone 9/11 Center for Counter-terrorism and Public Safety, the INTERPORTPOLICE established the 9/11 Award and Medal program to support the education and learning and information exchange programs. This effort is to endeavor the remembrance of colleagues and police officers who died in the line of duty on 9/11 and those who carry forward the mission of fighting terrorism and serious transnational crime.
"We recognize the outstanding achievement of the Award recipients as they have demonstrated the furtherance of innovation to the international security community and do hereby confer upon the companies," per 9/11 Award Committee Secretary General Jay Grant and Chair Chief Don De Lucca.
"We are tremendously honored to be the recipient of the 9/11 Personal Security Transportation award," said Noel Cherowbrier, C.E.O. of T3 Motion, Inc. "To be recognized by InterPortPolice is a testament to the design, features, and functionality of T3 Motion electric patrol vehicles. Our mission is to partner with our customers to provide them with the best tools to ensure that public safety and counter terrorism efforts are successful, shift-after-shift."
About InterPort Police:
The INTERPORTPOLICE – International Association of Airport and Seaport Police (also known as IAASP) – was established by global law enforcement and public safety agencies headed up from Canada, Netherlands, United Kingdom, and United States. 46 years later, IAASP continues to assist member agencies and stakeholder security organization in a strong path dealing with terrorism and organized crime. Member jurisdictions or organizations have responsibility over airports, seaports, borders, cruises, supply chains and/or public transportation. IAASP's involvement consists of a "prepare, prevent, and protect" strategy on several levels of activities from policy and agency leaders, national governments, intergovernmental organizations and specialized associations. In addition, IAASP international awards and decoration programs recognize law enforcement and public safety officers and officials who have distinguished themselves in fighting terrorism and serious transnational crimes.
About T3 Motion, Inc.:
T3 Motion, Inc. (OTC: TTTM) was founded in 2006 in Costa Mesa, CA and has become the global leader in clean energy, all-electric patrol vehicles for the Law Enforcement, Military, and Security markets. T3 Motion's revolutionary patented T3 Patroller was the first electric multi-shift vehicle designed for professional applications with interchangeable batteries. Deployed at airports, military facilities, retail centers, campuses, business districts, and other high-profile locations, the T3 Patroller has quickly become the choice of public safety agencies around the world. T3 Motion, Inc. now also offers customers the T3 Vision, a smaller all-electric patrol vehicle with interchangeable batteries ideal for interior patrols. For more information, visit http://www.t3motion.com, email sales@t3motion.com, or call (714) 255-0200.
"Safe Harbor" Statement under the Private Securities Litigation Reform Act of 1995: Statements in this press release regarding T3 Motion's business, which are not historical facts, are "forward-looking statements" that are not guarantees of future performance. Such forward-looking statements are subject to risks and uncertainties that may cause actual results to differ materially from those anticipated by the forward-looking statements. These risks and uncertainties include, among others, factors associated with market conditions and the satisfaction of customary closing conditions related to the proposed public offering. For additional information concerning these and other factors that may cause actual results to differ from those contained in the forward-looking statements, see "Risk Factors" in the Company's Registration Statement filed on Form S-1, as amended, and in periodic reports the Company files from time to time with the Securities and Exchange Commission.