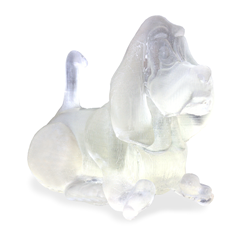 "Our team is excited to now be offering our Water Washable Resin, which requires no harmful chemicals for removing excess material."
Las Vegas, Nevada (PRWEB) October 27, 2015
Full Spectrum Laser (FSL) is pleased to announce the launch of its Water Washable Stereolithography Resin, a 3D printing photopolymer with a highly attractive finish and great mechanical properties, for which excess resin can be dissolved simply by rinsing. The resin will be available for sale online starting today at http://www.FSLaser.com.
During the stereolithography 3D printing process, light selectively cures a photopolymer liquid one layer at a time. When the object is finished printing, the excess uncured liquid must be removed during the finishing stage. Standard resins use solvents such as isopropyl alcohol or acetone to remove the uncured excess material, which are expensive and contain volatile organic chemicals (VOC's); VOC's are harmful to both the environment and humans.
In contrast, Water Washable Resin requires only water to finish, making it more user friendly with a lower total cost of ownership than any other 3D printing resin on the market today.
Water Washable Resin is designed to be compatible with FSL's full range of stereolithography (SLA) and digital light projector (DLP) 3D printers, including the Phoenix and Pegasus product lines. Printing with Water Washable Resin is the same as printing with any other FSL resin, and requires no additional expertise. Dissolving excess resin in water is simple and straightforward, requiring only a short period of rinsing or soaking.
About the product launch, Full Spectrum Laser Lead Materials Scientist Charlie He commented, "Secondary School educators have come to us with a growing need for a resin which not only performs well, but which is also more appropriate for the classroom environment. With the customer in mind, our team is excited to now be offering our Water Washable Resin, which requires no harmful chemicals for removing excess material."
Prints made with Water Washable Resin have a notably high resolution and are extremely durable. For this reason, its applications extend beyond the classroom to professional prototyping and product development.
About Full Spectrum Laser
Full Spectrum Laser (fslaser.com) design, manufacture, and retail a full range of consumer and industrial grade laser cutters, engravers, and 3D printers. FSL creates highly-competitive products in both price and performance through an emphasis on innovation and design excellence. As a highly-integrated company, FSL produces all electronics, software, mechanical hardware, and chemistry in-house for the tightest integration of engineering disciplines. The Company employs over 40 people with its product assembly, sales, customer support, logistics, and administrative departments all located in Las Vegas.