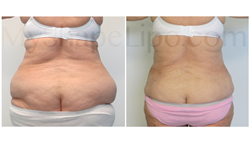 My larger patients definitely experience weight loss, but it's the health benefits that are more impressive.
Las Vegas, NV (PRWEB) October 28, 2015
The World Health Organization estimates that in 2014, 1.9 billion adults worldwide were overweight and of those, 600 million were considered obese. World Obesity Day hopes to bring a greater awareness to this growing problem in order to reduce the many health concerns that stem from obesity.
Most people don't think of liposuction as a weight loss procedure, instead view it as a "body shaping" procedure. After sitting down with Trevor Schmidt PA-C, the liposuction specialist and owner of MyShape Lipo, there seems to be another way to view this procedure and it's outcome.
"With liposuction, the focus should not be weight loss, but rather reduction in size," says Schmidt. "While removing the fat will lead to a reduction of weight, the reduction in size is much greater in comparison to the small weight loss. If you could lose 5 inches around your waist, but only lose 8 pounds, that would be considered a huge success."
Schmidt has the experience of performing over 15,000 liposuction procedures on all shapes and sizes of patients. Many of his patients tend to be on the larger side of the spectrum. In fact, a large number of his patients are considered obese, and weigh in the range of 300-350 pounds. Most of these patients had been turned down from other surgeons being told they are not good candidates for liposuction.
"I have a lot of experience working on larger patients and we tend to get much bigger results from these patients since they have more to remove," says Schmidt. "I truly enjoy hearing the impactful stories of these people as they begin their new life in a smaller body. Their benefits are far greater than weight loss."
It's the policy at MyShape Lipo to limit what can be removed in a single treatment, but they tend to recommend staging multiple procedures over a longer time period so that more fat can be removed for bigger impact. Staging multiple procedures is absolutely an inconvenience for the patient, but it significantly decreases the risks and can lead to more dramatic results.
By performing smaller procedures Schmidt says that he is able to get very aggressive in removing large volumes from an area such as the front of the abdomen. Then he will come back a few weeks later and focus his efforts on the love handles and back areas. This may be a slower process, but the results for these people are impressive.
"My larger patients definitely experience a weight loss, but it's the health benefits that are more impressive to me," says Schmidt. "Most people don't even realize how much the excess fat is inhibiting them and they are shocked at the benefits following their procedure."
While Schmidt discussed many improvements his patients noticed after liposuction, he says lifestyle improvements are among the most impressive. Removing large volumes of fat from the abdomen reduces pressure on the diaphragm which will make it easier to breathe. The loss of the hanging belly in the front will significantly reduce the stress and pain in the lower back. Many of these patients will also note that they have more energy and are capable of being more active following their procedure.
Most of his patients are excited that they will require a new wardrobe as their clothes no longer fit. In removing fat from the inner thigh, many of these people are able to alleviate the problem with their inner thighs rubbing. Going up and down stairs becomes much easier as well.
"I think the biggest improvement these people notice is the improvement in their confidence level," says Schmidt. "Many of them struggle from depression and lack of self worth. It warms my heart to hear that they are finally feeling better about themselves and have motivation to be more active and live a healthier life."
In addition to these physical benefits, there was a study presented at the American Society of Plastic Surgeons (ASPS) that showed liposuction can help reduce the risk of heart disease, stroke and diabetes. They found that there was an average of 43% reduction in triglyceride (bad cholesterol) levels.
In conclusion, Schmidt explained that obese individuals experience great benefits from liposuction including reduction in size, weight loss, improved mobility, decrease in pain, increased energy, reduction of cholesterol as well as a significant improvement in confidence. It is for these reasons that Schmidt believes obese individuals benefit greatly from liposuction and should consider it an option in their battle with obesity.
About MyShape Lipo
MyShape Lipo is a liposuction specialty clinic located in Las Vegas, NV. Their patients fly in from around the world to take advantage of their affordable rates and extensive experience with liposuction. In addition to removing fat, they also offer fat transfer for a natural enhancement of the breasts, butt or youthful improvement of face or hands. They also offer Smart Lipo laser skin tightening for those that have concerns of loose skin following their liposuction procedure. Their owner and liposuction specialist, Trevor Schmidt PA-C has the experience of over 15,000 liposuction procedures. They offer complimentary "Body Shape Analysis" over the phone with pictures or in person for locals. To schedule your consultation today, call 702-818-5476.