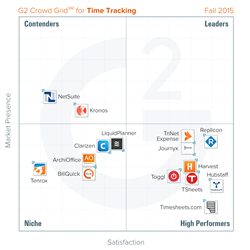 CHICAGO, IL (PRWEB) October 27, 2015
The updated GridSM report for time tracking, published today by business software review site G2 Crowd, ranks 15 products to help purchasers with their software selections. Eight platforms, including Hubstaff, Timesheets.com and Replicon, were named High Performers, earning strong customer satisfaction marks with smaller market presence scores. Overall, Hubstaff earned the highest overall Satisfaction score while NetSuite OpenAir earned the highest overall Market Presence score.
The Fall 2015 report is based on more than 300 user reviews written by business professionals. Of the roughly 100 products listed in G2 Crowd's Time Tracking Software category, the ranked products each received 10 or more reviews to qualify for inclusion on the GridSM.
The GridSM factors in customer satisfaction reported by users, along with vendor market presence determined from social and public data to rank products. Based on a combination of these scores, each software solution is categorized as a Leader, High Performer, Contender or Niche.
Since the Winter 2015 report, six new products have been added to the GridSM, including TriNet Expense, Hubstaff, TSheets, Timesheets.com, LiquidPlanner, and Kronos Workforce Central. Despite the addition of six products since the previous Time Tracking GridSM report, no product has achieved leader status.
Key findings revealed that time tracking and billable time rate management were the highest rated features by users, and high performers were rated by users as strong in these areas. Additionally, time tracking products boast a relatively high average ease of doing business of 88 percent, with all but four products above the 80th percentile.
Some highlights from time tracking software reviews on G2 Crowd:
"As a consultant tracking my own time and expenses, Harvest is easy to use. It never gets in the way, and makes the mundane tasks of time/expense tracking bearable. I'm also able to stay on top of my utilization with its easy-to-use reports. The mobile app makes traveling a breeze, too. As a project lead, Harvest affords me the insight into what teams are doing when I need it. Staying on top of burn rates, team utilization, and budget tracking has never been easier for me. It also speaks volumes about the product and company that Harvest regularly reaches out for feedback. And they listen."

Jeff L., Solution Architect at Mavens Consulting, Inc.
"Hubstaff made both the time being worked and the activity level of our team very obvious very quickly. This allowed me to ask a little more of some of our team and to better understand the limited productivity of others. I've used this information as a coaching tool to work to make the team better and more productive."

Bart B., CEO at DemandZEN
"We had a stand-alone time tracking system, but needed to extract the data and then painfully manipulate it in order to provide reporting, not to mention manually input the time data into the spreadsheets that were tracking revenue. [NetSuite] Open Air eliminates almost all of the manual process associated with project financial reporting."

Mike H., Controller at Quantia, Inc.
"[LiquidPlanner's] reporting is head and shoulders above the rest. The reports are easy to make and provide a great tool for sifting through data. I also like the way the projects are presented. Too many of the competitors make it hard to get a good look at many projects at once. With the [LiquidPlanner] tree structure I am able to get a feel for where each project stands with just a quick glance."

Tim T., Operations Director at 40Digits, LLC
"Kronos Workforce Central Timekeeper has been a great product for managing time and attendance. It is robust and allows a large degree of customizability to the needs of our company. Also, Kronos in general has had exceptional customer support."

Brad B., Project Manager and Business Systems Analyst at Misionero Vegetables
Premium research on time tracking software can be purchased on the G2 Crowd website for $599. This offers the original data for filtering and weighting, as well as individual profiles of each platform with the most helpful positive and negative reviews, detailed company information, user satisfaction ratings, feature scores and customer metrics. Future refreshes of the GridSM will provide updated rankings based on the latest reviews and social data.
Be sure to check out the new GridSM for time tracking product analysis and subscribe to the premium research.
_______________
About G2 Crowd, Inc.
G2 Crowd, the world's leading business software review platform, leverages its 41,000-plus user reviews to drive better purchasing decisions. Technology buyers, investors, and analysts use the site to compare and select the best software based on peer reviews and synthesized social data. Co-founded by the founder and former executives from SaaS leader BigMachines and backed by roughly $12 million in capital, G2 Crowd aims to bring authenticity and transparency to business technology research. For more information, go to G2Crowd.com.