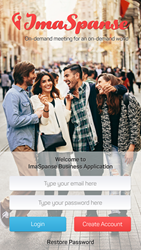 People of every walk of life in the city: yoga teachers, restaurant owners, young millennials… and they all had a use for ImaSpanse.
New York, NY (PRWEB) November 03, 2015
Up and coming new startup Danny Group is leading the on-demand revolution with their new service ImaSpanse. The new app uses location-based technology to facilitate people-to-people transactions and meetings, combining the best features of Amazon Prime Now and Uber.
•Tutors can find clients on-demand
•Grocery stores can announce location-based blowout sales
•Last minute transactions: Sell clothing, electronics, etc.
Company co-founders Richard Wong and Rachel Collins created the new service after both noticed a growing market for both instant gratification and location-based services. The two met when Rachel was working as a freelance social media marketer and Richard was seeking services for his other business ventures. When the bi-coastal team finally met in New York, the two noticed how New Yorkers benefited from the abundance of on-demand services: Uber, Fresh Direct, and Seamless. They thought, if people want rides and groceries on-demand, what else could be instant? ImaSpanse was born.
"People of every walk of life in the city: yoga teachers, restaurant owners, young millennials… and they all had a use for ImaSpanse. The yoga teacher wished she could fill the last few spots in her classes before they started. The restaurant was sick of throwing out extra food and not filling tables. And the millennial just wanted to sell her clothes the thrift store wouldn't take. ImaSpanse helped the yoga teacher fill her classes, the restaurant was able to fill their tables, and the millennial sold her dress instead of donating it. And that was only the beginning."

Rachel Collins, Co-Founder and CMO
The app is simple: users log in, enter a "tagline" which says what service they are offering or seeking, and they go. They can check the map to see who is nearby, or they can see what group events are scheduled. Everything is based on the user's location, so events and individual posts don't show up unless the user is close.
"My wife was always telling me how great it would be if she knew there was a sale going on nearby. There were plenty of times an ad popped up in her Facebook or Twitter feed after she left the mall, and she'd miss it. No sense going back if the moment has passed… how many more sales would have been made if she had just gotten the alert when she was there?"
Richard Wong, Co-Founder and CEO
Time sensitive location-based requests are growing not only in New York, but everywhere. Los Angeles, Chicago, Atlanta… for every city with an Uber, ImaSpanse is starting to get demand. And the more people hear about ImaSpanse, the more possibilities are open. Most recently Barnard University let the company table to help students use the service to facilitate on-demand study groups.
For now, ImaSpanse is available only in New York. But the Danny Group team plans on expanding.
Which city will be next? ImaSpanse is holding a contest for the next city. To vote, tweet #NextImaSpanse and then the name of a city.
New Yorkers can download the app here: http://bit.ly/ImaSpanseApp
For more information, visit http://www.imaspanse.com