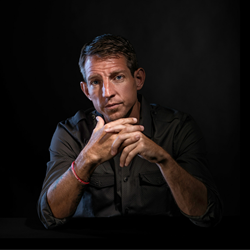 What most business leaders often forget is that if you stop doing the right thing before it starts working you have done the wrong thing.
NEWPORT, RI (PRWEB) October 27, 2015
Today, Dan Waldschmidt, billion-dollar global business strategist as President of Waldschmidt Partners International and inspiring speaker, presented the keynote for the annual conference of the Northeast Disaster Recovery Information X-Change (NEDRIX) in Newport, RI at the Hyatt Resort.
In his keynote Dan Waldschmidt shared 4 lessons he has learned studying over 1,000 extraordinary individuals who have achieved outrageous success in spite of the obstacles standing in their way. On a 4-year research project to discover the key traits shared by successful people, Dan Waldschmidt said, "When I first started researching the shared attributes of highly successful people, I asked myself, 'What does it take for me to be a hero?'" These 4 key lessons and over 100 stories of those individuals studied eventually became Dan's best selling book, EDGY Conversations: How Ordinary People Can Achieve Outrageous Success.
To share how NEDRIX members can radically change the conversation in their industry and live heroically, Dan Waldschmidt went on to share incredible stories of survival against all odds -- like Nando Parrado who survived an airplane crash into the side of a mountain, but survived for 72 days under extreme conditions in blizzard conditions. As a highly sought-after keynote speaker around the world, Dan was excited to share his insights with key technology leaders who are focusing on the changing enterprise landscape of disaster recovery. "Heroism, true heroism, often goes unnoticed. The long hours & late nights spent by the disaster recovery members of NEDRIX won't get media attention -- but they're crucial to thousands of leaders all over the world," says Dan Waldschmidt.
About Waldschmidt Partners International:
Waldschmidt Partners is a world-leading business strategy execution firm headquartered out of Washington, D.C. The firm operates in 14 countries across 30 different verticals, working with global leaders to effect strategic initiatives that drive massive growth. The Wall Street Journal called Waldschmidt Partners one of the top 5 global strategy firms in the world.
About NEDRIX:
NEDRIX is a professional organization based in Providence, RI. It is a community of professionals in the public and private sector with an interest in emergency response, crisis management, business continuity, or disaster recovery.