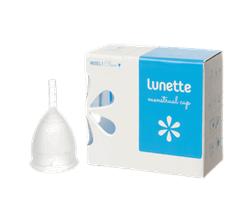 (PRWEB) October 27, 2015
There's nothing pleasant about a period, but Lunette makes those dreadful days a little more bearable.
Introducing the new and colorful Lunette menstrual cup, the future of feminine protection. It's made of soft, medical-grade silicone and doesn't use toxins or bleach. Each cup can last up to 12 hours, depending on one's flow. Once it's full, just empty it, wash it, and re-insert it. It goes in just like a tampon but it won't absorb the body's natural lubrication like those giant, violating cotton sticks. And, since it doesn't leak, Lunette users won't need a panty liner or diaper. Relax with no strings attached!
See how simple and lovable they are in this hilarious new YouTube video: https://youtu.be/-GD7abVn49A
Like Lunette? Celebrate newfound freedom at "Let There Be Blood: A Halloween Feministival," brought by THINX and Lunette. Enjoy comedy by Crimson Wave, period power, wine, beer, juice and hors d'oeuvres along with exclusive jams by the bloody great band Great Caesar! Come in your best SHERO gear for a chance to win their costume contest.
The flowing fun is all happening Thursday, October 29, from 7-10pm at THINX HQ at the Centre for Social innovation (601 W. 26th St. #325 NY, NY)
Join the thousands of cool women who care about the environment and get the cup that's perfect for monthly needs. It's time to flow freely and trust Lunette to keep clean.
For more information, visit Lunette's website:http://www.lunette.com. For a sample and to set up any interviews, contact jennifer(at)chicexecs(dot)com.