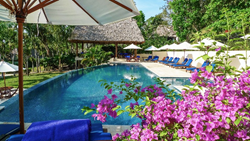 There's no denying that Belize is blessed with stunning scenery, excellent weather, and an English speaking populace that is by nature friendly and welcoming
San Ignacio, Belize (PRWEB) October 28, 2015
New figures showing that Belize is still in the midst of a "surging travel boom" are no surprise, and in line with what key players in the little Central American country's tourism industry has been experiencing, according to The Lodge at Chaa Creek.
Chaa Creek co-owner and GM Lucy Fleming said that figures recently released by the Belize Tourism Board reflect what she and her industry colleagues have seen in recent months.
"I remember it coming up in conversation that the third quarter (July – September) numbers will be some kind of record, and sure enough, the new statistics show the greatest increase ever recorded, which is great news for the entire country," Ms Fleming said.
As reported in the Caribbean Journal of October 22 2015, Belize experienced an almost seven per cent increase in stay-over arrivals during the third quarter of 2015, compared to the same period in 2014, representing the highest ever recorded increase.
Belize Tourism Board figures also showed there were 14,242 overnight visitors in September 2015 alone, representing an increase of 2,299 over September 2014.
The data also points out that Belize's Philip Goldson International Airport is main point of entry for tourists to Belize, accounting for almost three quarters of the total overnight arrivals.
North Americans, who continue to be Belize's main market, made up nearly 65 per cent of arrivals, and increased by 28.5 per cent during September 2015 alone.
And the market is showing strong growth in other regions, with the BTB reporting that, "Noteworthy is that there has been a major increase in South American arrivals, with a 45.1% increase for the first 9 months of 2015. This was followed by the Asian market which had a 25.1% increase.
"We anticipate continued growth in the South American and Asian markets with new marketing strategies that have been implemented in these areas, such as Trade Shows, Road Shows, service via Copa Airlines and other marketing partnerships," according to a BTB news release.
Ms Fleming, who is a past president of the Belize Tourism Industry Association, said the Belizean tourism industry's growth is the result of a combination of factors.
"There's no denying that Belize is blessed with stunning scenery, excellent weather, and an English speaking populace that is by nature friendly and welcoming," she said.
"However, those things have always been true. It wasn't until the industry, on a grass roots level and in cooperation with Belize government agencies such as the BTB, began promoting the country and highlighting what we have to offer that tourism really took off. I think what's really significant is that Belize's rapid development involved a commitment to environmental sustainability and positive social outcomes, all of which contribute to the long term health of Belize's tourism industry," Ms Fleming said.
Ms Fleming added that with continual infrastructure upgrades, such as a proposed new international airport on Ambergris Caye, and the growing ease of travel to, from and within Belize, the future looks bright.
"Most Belizeans appreciate how beneficial tourism has been to the economy and quality of life in Belize. A population that welcomes tourists and supports the industry, combined with a palette of natural attractions that include vast jungles, unspoiled rivers, ancient temples and other remnants of the early Maya civilisation, a pristine Caribbean coastline and a range of attractions, creates a very strong recipe for success.
"The challenge now is to ensure growth remains sustainable and beneficial, and I'm confident that that's the case now, and will remain so into the future," Ms Fleming said.
The Lodge at Chaa Creek is a multi award winning eco resort set within a 365-acre private nature reserve along the banks of the Macal River in Belize.
ENDS