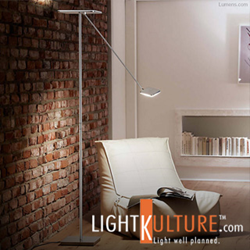 The fluid movement, state of the art LED technology, combined with decades of manufacturing experience, makes Holtkotter lighting an aspirational brand,which we are very proud to represent.
Boston, MA (PRWEB) October 28, 2015
LightKulture.com is excited to offer The Ultimate LED Lighting Machines from Holtkotter. "We have carried Holtkotter in our store for many years. The brand is designed and manufactured in Germany to the highest standard of excellence in every aspect of product fulfillment ", noted Susan Inderbinen, President of LightKulture.com. As a complete manufacturer, Holtkotter has control of the product characteristics from concept to completion, in their own design studio and manufacturing facility in Lippstadt Germany. After a brief business interruption here in the US, Holtkotter is back with new American ownership, new product innovation, and a renewed demand for their products. Many of our clients are from Europe where Holtkotter has continually enjoyed tremendous success over the past 40 years. As technology has advanced in LED lighting, Holtkotter has been on the forefront, using the highest quality drivers, light sources, solid brass and beautiful hand applied finishes, which transform a light into a work of art. While Holtkotter is often imitated, no one can duplicate the intuitive ease of motion and control, or abundance of light, engineered into Holtkotter LED Lighting.
This has been a banner year for Holtkotter. At the Dallas International Lighting Market this summer, Holtkotter was recognized with the Market Choice Award for best new LED lighting product. Last month, they were recognized as a leader and innovator with the prestigious Lighting For Tomorrow Award presented by the American Lighting Association. They are also nominated as the best LED Lamp manufacturer by the Arts Awards council for their Plano LED Torchiere. Beyond the accolades, Holtkotter as increased product production and inventory, with an astounding 90% of their product line in stock. Not only is the product line more accessible, prices on most items have been lowered as much as 15%. Homeowners and design professionals gravitate to the brand when light output is important for tasks like reading. Holtkotter also offers a variety of LED chandeliers, LED pendants and LED wall sconces for general ambient illumination. This is important where the attention to detail, and beauty of the light has to match the high standards of the rest of the interior design.The fluid movement, state of the art LED technology, combined with decades of manufacturing experience, makes Holtkotter lighting an aspirational brand,which we are very proud to represent.
For more information go to
Holtkotter - http://www.lightkulture.com/brands/Holtkotter.html
Award Winning LED Lighting by Holtkotter Shines Brighter Than Ever, Now at LightKulture.com
"We offer many brands in our store and on our site. We don't just carry a product, rather, we invest in brands that solve problems, and fulfill the demands our clients needs and lighting desires. We look to partner with brands that deliver style, quality and value, are hassle free, and stand behind their products. These are many of the reasons why we support Holtkotter. I have a personal relationship with both the German manufacturer, and the US headquarters. Everyone I come in contact with has the highest integrity, with a tremendous willingness to help us and our customers. Holtkotter LED products have a 5 year warranty on every aspect of the product, from electronics to the finish. Their halogen product offers a 1 year warranty, with the option to have a lamp repaired and returned under warranty at no extra charge. In addition to their beautiful contemporary lighting, Holtkotter is a brand with integrity. Our clients invest in beauty and performance. The peace of mind that comes along with a Holtkotter purchase is at no extra charge", noted Susan.
About LightKulture.com
At LightKulture.com, our mission is to offer the finest energy efficient contemporary lighting and light fixtures from around the world. We have assembled an exciting collection of the industry's most innovative decorative and architectural lighting.We are proud to offer lighting solutions for both your home and work-life environments. Simplicity in design is complicated, function makes it last. Be inspired by our range of essential designs from well respected American and European manufacturers. In today's world, energy efficient lighting is as important as eco-friendly or green lighting fixtures, such as LED or CFL lighting. We offer the very best energy efficient lighting and light fixtures, both high value LED lighting fixtures and CFL lighting fixtures in modern and contemporary styles that provide quality, innovation and authenticity.
LightKulture
http://www.lightkulture.com/
Email. sales(at)lightkulture(dot)com
Tel. 941-330-0422