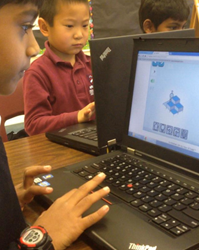 Stratford provides an unparalleled STEAM education
Pasadena, CA (PRWEB) October 27, 2015
Stratford School, a Silicon Valley based educational leader, announces the opening of a second Southern California campus, located in Pasadena, for the 2016-17 academic year. This announcement comes just one month after Stratford began accepting applications for grades Preschool through 8 at its new Los Angeles Melrose campus.
Recognized as a top-tier independent private school, whose students historically matriculate to highly-ranked, first choice high schools, Stratford School is uniquely positioned to enter the SoCal market by offering an exceptional academic experience to preschool, elementary, and middle school students. Stratford School's reputation precedes their migration south, having received accolades from Bay Area parents and national academic associations across its 18 campuses.
Stratford School's formula for success lies within its unique combination of high academic standards, culture of caring, and passionate faculty that foster curiosity and achievement in each student. Stratford provides an unparalleled STEAM education, where children are inspired to be creative problem-solvers, innovators, and leaders.
Stratford School is the first school in California to receive the prestigious Carnegie STEM Excellence Pathway Digital Seal. Stratford was awarded the 2015 School of the Year at the Synopsys Science and Technology Championship, and was Voted Best of the Bay 2015, by readers of Bay Area Parent. Accredited by the Western Association of Schools and Colleges, WASC commended Stratford for providing "…a rich, well-rounded, challenging, and sequential curriculum that is constantly enhanced."
Stratford has expanded its educational program to meet the growing demands of parents seeking an academically advanced, socially enriched, dynamic education. "Our vision is to inspire and nurture the hearts and minds of our students--one child, one teacher, one family at a time. All campuses maintain a school community that inspires children to realize their full and unique potential," says Stratford founder, Sherry Adams, who established the school in 1999.
It takes a lot to stand out in Silicon Valley, widely regarded as the hub of innovation and development. "There aren't many schools doing what we do, the way we do it," says Shawn Weidmann, Stratford's CEO. "We provide a high quality education rooted in the foundation of a core academic curriculum, with special emphasis in music, arts, science, technology, engineering, and foreign language." He adds, "We look forward to continued growth and success in Southern California."
Applications for the Pasadena campus for grades Preschool through 5 are being accepted immediately and enrollment is expected to fill quickly. Stratford is also recruiting for leadership and teaching positions.
Call to schedule a tour (323) 988-9505. Or, for more information about Stratford School go to http://www.stratfordschools.com/socal. For a look inside Stratford School click here.
About Stratford School
Established in 1999, Stratford School is a leading independent private school founded on the belief that education is a significant influence in the life of a child. Stratford offers an accelerated curriculum from preschool through eighth grade with an emphasis in the areas of STEAM (Science, Technology, Engineering, Arts, and Mathematics) that incorporates music, physical education, foreign language, and social skills development. Stratford's goal is to prepare and mentor students for admission to competitive high schools and colleges. All students are provided the necessary tools to excel, and are encouraged to participate actively in leadership, community service, and extracurricular activities. Visit http://www.stratfordschools.com for more information.