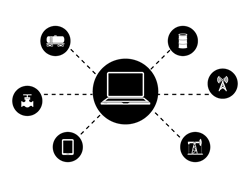 "These PLCs are a real asset to our product offerings," said Ryan Mecham, COO of Powerblanket. "With the monitoring capabilities they offer, we can provide even greater efficiency and peace of mind to our customers, whatever industry they may be in."
SALT LAKE CITY (PRWEB) October 28, 2015
Powerblanket recently set the bar even higher for the heating solutions industry with the addition of the company's new programmable logic controllers (PLCs). Powerblanket PLCs allow users to remotely monitor and control their industrial heating blankets in various ways to ensure safety, continuity, and efficiency.
The monitoring and control capabilities that come with Powerblanket PLCs are a truly remarkable and innovative addition to the company's line of industrial heating solutions. A programmable logic controller is an industrial computer control system that continuously monitors the state of a device (in this case, a Powerblanket industrial heating blanket) in order to make decisions based upon a custom program that controls the output devices of the system. In other words, the Powerblanket PLC allows users to set limits and reactions to temperature, schedule, or interferences.
A Powerblanket PLC gives a user the ability to monitor and regulate all the temperatures in all Powerblanket products (both the temperature inside the heating blanket and the temperature on the surface of the heating blanket). Additionally, a user can make needed adjustments on various blankets or the various zones of a single blanket.
The Powerblanket PLCs are also entirely scalable. This means a user could set the PLC system to measure just one temperature zone, and set it to switch only one blanket based on that temperature, or they could have their system set to measure 200 temperature zones for 100 different blankets. There's no upper limit to the number of temperatures or blankets a user could monitor and switch with the Powerblanket PLC system.
In addition to temperature controls, the PLC also allows users to set programs based on scheduled times and dates or potential external interferences. This means that the PLC can be programmed to reach a certain temperature at a certain time and can be set to shut off if there were circuit shorts or power failures.
"These PLCs are a real asset to our product offerings," said Ryan Mecham, COO of Powerblanket. "With the monitoring capabilities they offer, we can provide even greater efficiency and peace of mind to our customers, whatever industry they may be in."
More about Powerblanket
Powerblanket® started in 2005 in Salt Lake City, Utah with one goal – to solve heating problems. Since that time, Powerblanket has become an industry leader in offering such solutions to the construction sector. Featuring patented GreenHeat™ technology, Powerblanket products delivers a barrier of uniform, directional heat where it's needed most – preventing freezing problems and maintaining optimal temperatures. This Innovative heat-spreading technology insulates, protects, and maintains heat in a wide variety of applications. Discover how Powerblanket GreenHeat™ Technology can dramatically improve your output…and bottom line. For more information about Powerblanket, visit http://www.powerblanket.com.