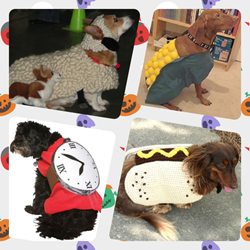 If you're a pun/Halloween/animal lover like me, these costumes will leave you ast-hound-ed and a-mew-sed
San Francisco, CA (PRWEB) October 27, 2015
In celebration of the upcoming holiday, the grammar blog Let's Just Be Clear is counting down the top 10 punny Halloween costumes for animals, from Rufferee to Santa Claws to … well, curious readers should click through to find out which costume is number one.
"If you're a pun/Halloween/animal lover like me, these costumes will leave you ast-hound-ed and a-mew-sed," exclaims Let's Just Be Clear founder Laurel Shane in the blog post.
The punny Halloween costume countdown is becoming an annual tradition for Let's Just Be Clear. Past posts on the theme include Top 10 Punny Halloween Costumes and 10 More Punny Halloween Costumes.
In addition to Halloween costume puns, Let's Just Be Clear blog posts cover numerous topics related to writing, editing, and the English language. Readers will find tips for better business writing, clarifications of commonly confused words, punctuation explanations, style suggestions, and musings on the language of pop culture, among other subjects.
Visit letsjustbeclear.com/blog-index to explore past posts.
About Let's Just Be Clear
Let's Just Be Clear is an online writing and editing service that helps small-business owners engage and expand their online audience with attention-grabbing, SEO-friendly website content, blog posts, press releases, email newsletters, and social media campaigns. Founder Laurel Shane, a graduate of UC Berkeley, is an experienced writer and editor who specializes in creating clear, concise, compelling content that will attract and inform readers. Visit letsjustbeclear.com for more information.