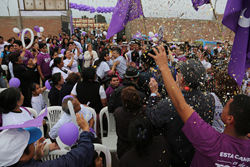 PRESS CONFERENCE Date: Friday, October 30, 2015 / Time: 9:00 am / Location: Pio Pio, Peruvian Restaurant / Address: 604 10th Avenue (between 44th St and 43rd St). Hell's Kitchen, Manhattan. New York, NY 10036
New York (PRWEB) October 28, 2015
Julio Guzmán Cáceres, former IDB official, expert in Public Policy from Georgetown University and a graduate of Oxford University, announces Presidential Run in Peru. On Friday will offer a press conference in NYC.
"I don't owe anything to anyone, and my team doesn't owe anything to anyone. We have the freedom of having made our lives on our own; having done the right thing." Firm in his convictions, Julio Guzmán Cáceres, an economist, 45, seeks the next presidency of Peru. Being an advocate in the fight against corruption-. "I got into politics because I got tired of corruption", he said. He's a harsh critic of the current government which he belonged to for 18 months, and he said that "instead of obsessing with large investment, we have to become obsessed with people." "Big investment is important, but more important are the people," he says.
"I've been in senior positions in this government. This policy has allowed me to gain exposure and experience that has also taught me what kind of politician I don't want to be," he says. "With my team, I tried to promote initiatives and they weren't possible between 2011 and 2013. Julio Guzmán was Vice Minister of Industry and Medium Enterprises; also Secretary General of the Presidency of the Council of Ministers in Peru. He proposed reforms that would improve the lives of people, but the government would say, "That's not important, forget that... so you come up with these reforms that won't be recognized later," he recalls.
On October 25th, the young presidential candidate announced his candidacy during the opening of a campaign headquarters in Los Olivos, in Northern Lima. The event was attended by leaders, members and supporters from different corners of the country. "We are tired of things not working out because corruption has taken over the country and it's time to make a change. The dinosaurs have had their chance and they haven't done anything," he said, referring to politicians and traditional parties that govern Peru again and again.
"What you are done with dinosaurs? They go to a museum, not a government palace," he added. "Those politicians who are always saying, like parrots, that big investment is all that matters; however, they never talk about investing in people, investing in us. Big investment is positive, but we cannot be obsessed with that and forget the other big investment: investment in our capabilities, our talents," he said.
"Our country has been hijacked by corruption (corrupt candidates) that steal money that should be used for works. It has been hijacked by pessimists who do not believe in our future; but, primarily, our country has been hijacked by politicians who thirty years ago are doing and saying the same today," said Guzmán Cáceres. The presidential hopeful for the party also known as the 'Purple Party' said the emerging class "is the country's future."
"Peru has many young hands who want to work, and we have extraordinary natural resources, a variety of marine, water species, fertile land, forests, metals, biodiversity, and more. Now Peruvians think differently. Today we no longer have to manage scarcity. Today we need to manage progress. We are coming into modernity. We have invested heavily in mines, and now is the time to invest in minds. Just as we extract wealth from a mine, it is time to extract wealth from the minds of Peruvians."
Guzmán said that the political descriptions of "left" and "right" are obsolete and irrelevant to the ordinary citizen, and he prefers to be called a reformist. He began his campaign just over two years ago and, during that time, has been given the task of traveling the country forming alliances with regional movements, opening campaign committees in populated areas of the Peruvian Amazon, Highlands and Coast, and creating hope around his candidacy.
In a little less than six months from the start (elections will be held on April 10th, 2016), he decided start campaigning by visiting markets, talking and listening to people on the street, but also participating in academic forums, exposing his proposals to economic chambers of commerce and opening party committees in populous districts of the Peruvian capital- the poverty belts of Lima, where he has managed to convene and convince a considerable number of young students, professionals, employees, the unemployed and emerging entrepreneurs, all apparently united by a common denominator: disappointment with the "same old" candidates.
Unlike the candidates who lead the polls today in Peru, Julio Guzmán, an economist from the Catholic University of Peru, and with a Ph.D in Public Policy from the University of Maryland (Washington DC) and postgraduate studies at the University of Oxford (United Kingdom), and despite having been official of the current government of President Ollanta Humala, has no gray areas on his resume. Nor does he have any connection with corruption or political or ethical accusations that could lead us to believe that his presidential bid is "more of the same" in Peruvian politics.
In fact, Julio Guzmán, born into a lower middle class family not from Peru's capital, and a former official of the Inter-American Development Bank (IDB) for 10 years and former assistant professor at the School of Public Policy at the University of Georgetown and Maryland in Washington DC, said that Peru "got screwed" when it got used to living with corruption. In his eventual government, he said, "If you put your hands where you should not, you will go to jail; no matter who you are or what name you have." Nor is he against openly supporting civil union between same-sex couples and abortion in rape situations.
PRESS CONFERENCE
Prospective: "The relationship between the US and Peru advances or slows?"
Date: Friday, October 30, 2015
Time: 9:00 h
Location: Pio Pio, Peruvian Restaurant
Address: 604 10th Avenue (between 44th St and 43rd St). Hell's Kitchen, Manhattan. New York, NY 10036
Phone: (212) 459-2929
Heidi Castrillón (Conference Chairperson)
Communications & PR / BIZ USA-Perú Inc.
Press registration please contact
Tel.: 201.875.0220
More info: heidicastrillon(at)bizusaperu(dot)com