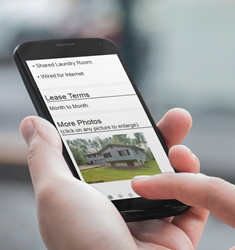 The new mobile friendly property listings features in the software allow Rentec Direct's clients to reach a broader audience, giving them a competitive edge in finding new tenants for vacant rental properties.
Grants Pass, OR (PRWEB) October 28, 2015
Rentec Direct announced updates to the marketing features of the popular property management software application which include mobile friendly rental listings and online applications. Rentec Direct offers advanced cloud-based software applications for property managers, investors and landlords who seek powerful tools for managing rental properties online.
Rentec Direct provides a full suite of marketing features integrated into the management software for property managers and landlords. The program's marketing products include personalized websites for advertising rental vacancies and accepting rental applications online. The latest update to Rentec Direct's software includes a responsive design for the property listings page and online rental application. This update allows rental housing prospects to easily search and apply for available properties on their smartphone or tablet.
"Over 50 percent of renters are using mobile devices to search for rental housing and 1 in 5 millennials are using their smartphones exclusively for all online business. All landlords and property managers need to optimize their rental listings for mobile searches to reach this key demographic," explains Nathan Miller, President of Rentec Direct. "By using the new mobile friendly property listings features in the software, our clients' marketing website will now reach a much broader audience, giving them a competitive edge in finding new tenants for their rental properties."
Rentec Direct's mobile friendly update includes improved functionality of the property's detail page, allowing users to easily view property images using the new intuitive finger-swipe actions for easy scrolling through marketing photos, advanced input fields that will display a numeric keypad for numeric fields, an email keypad for email fields, the standard keypad for standard text, improved form validation that ensures an applicant's data is checked on each form page and a pop-up window will display any issues such as an incomplete field or incorrect formatting.
To find out more about how Rentec Direct's property management software can improve a property manager's workflow and streamline business processes today, visit https://www.rentecdirect.com/.
About Rentec Direct
Rentec Direct provides affordable property management software solutions to property managers and landlords. Other popular solutions offered by Rentec Direct include tenant ACH payment processing, tenant credit check services, and online syndication of vacancies to more than 20 popular websites.