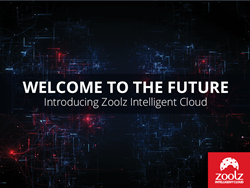 Zoolz Intelligent offers solid enterprise level functionality including intelligent analysis
London (PRWEB) November 17, 2015
New Service that takes the power of the Cloud, and makes it intelligent
Nov, 15, 2015, Zoolz LTD, a leading provider of cloud and business continuity solutions, today announced the release of its become a founding member model for early previews and special discounts for their new unprecedented, Zoolz Intelligent Cloud that will revolutionize cloud backups.
The Cloud solves a myriad of backup and storage challenges, which Zoolz next-gen is taking to a new, more advanced level, by making data truly accessible through powerfully engineered artificial intelligence.
Zoolz Intelligent Cloud backup solution comprehends data in a way that has never been done before. It doesn't just store documents, audio files, images, and videos. Instead, it analyzes this data before indexing it and structuring it in a unique way that makes it easy and quick to locate.
Muayyad Shehadeh, the founder and CEO of Zoolz Intelligent Cloud, explained the thinking behind their intelligent cloud storage and backup solution: "Zoolz Intelligent offers solid enterprise level functionality including intelligent analysis, whilst maintaining a price-point that will continue to deliver swift returns for our existing and new customers alike!
"Plus, we wanted to make using it as easy as possible. In fact, all that's required is for users to upload their data in whatever format they have, and Zoolz Intelligent Cloud will get to work indexing, sorting, and archiving: out of data chaos comes order. With Zoolz next-gen release, we make data workable and useful."
The features available in Zoolz Intelligent Cloud are set to change the cloud storage industry from this point on. The Intelligent Photo Detection feature is just one example. It indexes images according to a number of different criteria, including image quality, size, dominant color, location, and more. Users can narrow their search results and locate images instantly.
This intelligent indexing and search capability applies to many other types of files. For instance, Zoolz Intelligent Cloud understands words, analyzing the language, grammar, and sentence structure used in documents. This means it will no longer be necessary to remember the exact phrases when conducting searches, making it much easier, quicker and cost-effective to locate documents, or even sections within documents.
Additionally, Zoolz Intelligent Cloud next-gen release understands different languages, including Chinese, Japanese and Arabic. It smoothly streams videos, too. Such streaming is possible, whether the videos are stored in short term hot storage or long term cold storage. Character recognition has also been engineered into this next-gen release, delivering even more value in helping customers access their valuable data with ease.
Muayyad added "Zoolz Intelligent Cloud not only handles customer's data - including files, documents, media files and more - it also structures data with intelligence. This makes data assets very easy and quick to find. Each distinct next-gen feature in Zoolz Intelligent Cloud, from the content search facility to media streaming to OCR abilities to tagging, is designed to advance the functionality of cloud storage and offer customers something they have never experienced before."
Zoolz Intelligent Cloud is built to handle colossal amounts of information, operating on the Amazon AWS platform, meaning customers can be sure their data are being managed in a robust, secure and reliable backup and storage solution.
This year has seen up to 10-Exabytes (EBs) of data being stored globally, which is estimated to rise to circa 40-EBs by 2020. Being able to access and use these colossal data volumes are therefore going to become more critical - Zoolz Intelligent Cloud is designed and engineered as the next-gen solution to solve these increasing problems. Zoolz Intelligent will be available Q1 2016; however, you can become a founder for BETA and pre-release previews. It also serves as a discounted subscription once the service is released.