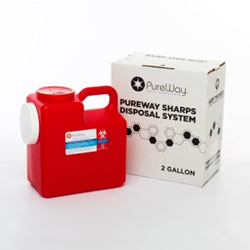 These systems can save dentists up to 50% over contracted waste pickup services, and even feature additional compliance benefits such as live email tracking and electronic certificates.
Santa Monica, CA (PRWEB) October 28, 2015
PureLife Dental, a health- and environmentally-focused dental distributor, is proud to introduce its new line of Sharps Disposal Systems. Dentists can now responsibly dispose of their sharps and other used healthcare materials without the hassle and expense of traditional monthly pickup services, as PureLife's systems do not require contracts or any additional fees, saving dentists an average of 50% or more.
In addition, these systems offer unique benefits compared to other ship-back systems on the market. For one, PureWay® sharps containers are up to 20% larger than the industry standard, saving dental offices money throughout the year as fewer containers need to be purchased. Furthermore, PureLife saves customers time by pre-filling the manifest to ensure the document contains the correct information. Every sharps system is also tracked from pickup to destruction via live email notifications and electronic certificates are automatically sent to the customer, unlike other companies which require the dental office to submit a request before they can receive a certificate.
"Waste management and compliance have always been a core focus for us, aligning with our health-conscious identity," said PureLife CEO, Rodney Hanoon. "Because dental offices are so busy on a daily basis, we identified a clear market need for a simpler and more convenient way for our customers to stay compliant. That's why our Sharps Disposal Systems—which include a prepaid return shipping box and pre-filled manifest along with inventory management and auto-reorder options—were created as a complete end-to-end solution for dentists to conveniently manage their waste."
With the addition of PureWay® Sharps Disposal Systems, PureLife continues to give dentists access to complete waste and compliance solutions. Dental offices can order by contacting PureLife toll-free at 877-777-3303 or online at http://www.PureLifeDental.com.
About PureLife:
Established in 2009, PureLife offers dental health professionals a unique combination of name-brand products, compelling prices and high-touch service, so "better health" can be a realistic part of every purchase decision they make. From complete waste solutions to everyday dental supplies, PureLife empowers practitioners to make a positive difference in the health of their patients and staff, and in their environmental impact.
# # #