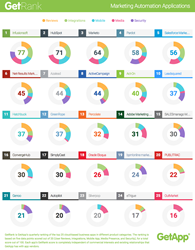 Marketing software must be incredibly flexible and robust in order to be useful.
(PRWEB) October 28, 2015
GetApp, the largest cloud­-based business apps marketplace, has released its updated Q3 GetRank of the t​op 25 marketing automation solutions; Infusionsoft remained number one from Q2, while Hubspot and Marketo swapped spots to rank 2nd and 3rd this quarter, respectively.
The ranking, which is meant to provide small and medium businesses looking for a marketing automation solution with a first look at the best available options, is based on five unique data points collected from GetApp and other third-party sources. They include user reviews, integrations, mobile availability, media presence, and security. See our short video about it here.
User-generated reviews and integrations are calculated using data listed on GetApp, while security scores come from vendor responses to a security survey based on the Cloud Security Alliance Self-­Assessment Form. Mobile platform data is captured from Google Play and the Apple App Store, while media scores are calculated using the number of Facebook followers and Twitter fans a vendor has.
Included with the ranking is an updated Q3 report with insights into the current state of marketing and marketing automation software in 2015.
"There are so many ways to market a business that marketing software must be incredibly flexible and robust in order to be useful... Ultimately, you want a system that does everything you want but isn't frustrating to use," says John Jantsch, marketing consultant, founder of Duct Tape Marketing, and among one of many contributors to our report, Marketing in the Cloud.
Click through to access t​he Q3 GetRank for Marketing Automation software and download a copy of GetApp's Q3 research report, Marketing in the Cloud: Key Trends for 2015 on GetApp.
More about GetApp: GetApp, a Gartner company, is the leading premium business app discovery platform on the web. Headquartered in Barcelona (Spain), GetApp serves as a platform for user-generated and editorial reviews of software and apps for businesses.