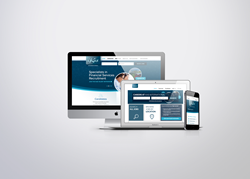 Our goal is to constantly ensure access to opportunities is seamless. - Oliver Coughlan, Group CEO
(PRWEB UK) 28 October 2015
http://www.ikasinternational.com/
With candidate and client reach being integral to the modern day recruitment world the company's new platform transforms our candidates and clients experience whether desktop or mobile based. With easy to navigate panels and embedded videos, the site has been designed with the user in mind. It will provide our global network of candidates an excellent opportunity to clearly see live jobs through the new job search section, gain full access into the brand and our service to the market and join the companies "Talent Network" platform.
The 'Talent Network' is a core, innovative feature, and works like a job board attracting all candidates on all major devices that provides the ability to apply from a mobile device and will function like a simple CV uploading tool. Candidates are at the centre of what we do and it was critical the company builds a platform to enable ease of access and ease of application. Ultimately speed and ease of application will not only ensure candidates can apply easier but ensure our speed to market and ability to provide business critical candidates to our core client base is improved.
Joining out Talent Network is easy and those who join will then partner iKas International and your job search will come to you. Access is either through the website or visit the following link;
http://www.jobs.net/jobs/ikas-international/en-gb/
Oliver Coughlan, Group Chief Executive commented, "As a leading Financial Services partner our goal is to constantly ensure access to opportunities is seamless and that such access enables the company to deliver what is expected to our global client base. In a world where web and social platforms are consistently evolving it is important to not only move with this evolution but offer a product that supported our external partners. Our Talent Network platform not only positions candidates and clients at the center of everything we do but enables our communities to connect with our services whether on the move or at a desk to ensure we are offering a market leading solution and our candidates not only apply quicker but apply to jobs that our clients deem business critical at a competitive speed…."
The website falls in line with the group's overall branding, with a minimalist, corporate feel. The site is easy to use, and aims to provide the user with the most straight forward links, directing candidates to the right job and allowing prospective clients to understand exactly what iKas International offers.
iKas International is a multiple award winning brand (part of the iKas Group) and recruits into over 30 global countries and have bases in London, Singapore, Hong Kong, Sydney and New York. They have recently placed for the second year running in the Sunday Times Fast Track 200 list.