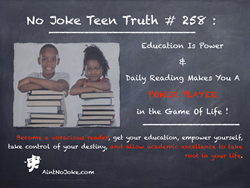 No Joke Teen Truth #235: Wise teenagers know that there's a time and place for everything. They understand that a childhood is a short time, and four years of high school can come and go in a blink of an eye.
Miami Shores, Florida (PRWEB) October 28, 2015
Academically, all kids struggle at some point, but what separates the poor, average, and good students from the great students? Through all of the ups and downs of teen life, which traits allow students to maintain a high level of academics? What are the essential underlying elements that top students embody? And how should parents work together with their teens to foster an environment of academic excellence? Educator Keith G. Wright offers (6) Teen Truths from the view of highly successful students:
1) Use Technology To Monitor Classroom Progress
No Joke Teen Truth #227: The smartest teens actually use technology for its intended purpose, and do not hijack the latest wireless and online inventions merely for hate, harassment, bullying, gossip, and drama.
Working in Public Schools, I've talked with many straight-A students regarding the reasons they are successful in school. One student summed up the underlying theme of what everyone said; consistently check and monitor progress via technology. He said, "Mr. Wright, I check Edline* daily" (Edline - the teacher-updated school's online student progress tracking tool)… he added, "…like some kids check Facebook everyday, I check Edline, like some kids check Instagram & Twitter, I also check Edline… and I have just as many friends on social media as they do... how are you going to know if you don't check? "
With such a proliferation of smart phones, it's difficult for teens to resist the call of addictive games and social media apps, even within the classroom environment. But No Joke Teens are always aware of what's going on in the classroom, always aware of what assignments are due, what tests to study for, and what projects need to be completed… just like social media apps, No Joke Teens also check their grades & status everyday, and if they see something incorrect, they talk to the teacher for clarification, not waiting until it's too late to find out about a potential problem.
2) Understand Time & Place For Everything
No Joke Teen Truth #235: Wise teenagers know that there's a time and place for everything. They understand that a childhood is a short time, and four years of high school can come and go in a blink of an eye.
Academic excellence is a constant companion of teens who know to play when it's time to play, and study when it's time to study... make time for athletic ambitions, make time for chores & daily responsibilities around the house, and make time for personal and spiritual growth. They listen respectfully to their teachers while in the classroom, and they listen to their music players outside of the classroom. They enjoy the company of their friends when it's time to be social, and they quietly concentrate on the lessons at hand in any learning environment. Academic excellence comes to teens focused on what's most important at that moment.
3) Daily Reading - Feeding Your Mind & Curiosity
No Joke Teen Truth #257: Fearless teenagers realize that Daily Reading is the single most important life-building activity you can possibly do. Reading gives your dreams the freedom to soar through the universe.
There is no real success without reading. It's a simple fact of life. Some kids figure this out early in life… Bill Gates got it early. Oprah Winfrey got it early. The truly great ones got it early, and so can you. You're still young enough to incorporate reading into your daily activities.
Each year marks another anniversary of a 1954 Supreme Court ruling granting equal access to education, for all American citizens. But why would ANYONE not want EVERYONE to be educated?
a) Because education is power, life-long, from one-generation-to-the-next, power.
b) Because an educated person can compete in this world.
c) Because an educated person is not easily misled.
d) Because an educated person has their destiny in their own hands.
e) Because an educated person is not intimidated by fancy words, contracts, unconstitutional laws, and other games that powerful people play.
Become a voracious reader, get your education, empower yourselves, take control of your destiny, and allow academic excellence to take root in your life.
4) Discipline Is Your Friend
No Joke Teen Truth #268: The most successful teenagers embrace discipline as the foundation for leading a life of academic excellence.
Wouldn't it be nice if we could get straight A's in school without studying? Wouldn't it be nice if we could become All-American athletes without training? Wouldn't it be nice if we could run our own million dollar businesses without working much? Wouldn't it be nice if we could cure the world's diseases without exhaustive research and study? But this life just ain't that easy.
For academic excellence, a healthy amount of sacrifice & discipline will be an absolute requirement... let discipline be your friend, discipline in your studies, in your social activities, discipline in the way you treat other people, in the way you interact with your family and loved ones, discipline in your eating habits and exercise regimen, and discipline in your efforts of personal and spiritual growth.
5) Not Everything In Life Is Meant To Be Fun
No Joke Teen Truth #312: Wise teenagers know that the roads to accomplishing their goals and finding their dreams are not filled with fun and excitement every step of the way. They realize that not everything we do in life is meant to be fun. These teens know that there is much work to be done, to achieve academic excellence, or anything worthwhile in life. It's a wonderful thing to work hard for something, and achieve it. The feeling that you did it with your own determination is so much more rewarding, so much sweeter, than if it was so easy that everyone else is doing it.
6) Academic Excellence Challenge - A Daily Lifestyle
No Joke Teen Truth #262: The most ambitious teenagers challenge themselves to achieve academic excellence. They challenge themselves to achieve perfect grades for at least one school term.
Challenge yourself to academic excellence. Take one term, one quarter, one semester, whatever your school calls it, and commit yourself to straight A's. Challenge yourself to do whatever it takes, sacrificing everything for just one term out of your school career, at least once out of the 12 years of school, to get nothing but straight- A's.
For the rest of your life, you can live with the satisfaction that you had a perfect report card… and keep a copy of that perfect report card to show it off to your future children and grandchildren, as a symbol of what powerful young people can do when they apply themselves.
About Keith G. Wright :
Keith G. Wright is author and creator of AintNoJoke.com, advocating for families, by empowering parents, supporting teachers, honoring women, and inspiring teenagers to lead courageous lives. Please share with parents and teens making a difference. For more information, please visit http://www.AintNoJoke.com.