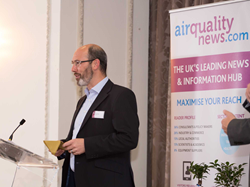 Air quality has never been more topical and these innovative ideas and technological developments will help us all move necessary improvements forward
Bristol, UK (PRWEB UK) 29 October 2015
Delivered in partnership with the British Lung Foundation and the Institute of Air Quality Management, the awards celebrated the UK's best air quality initiatives, campaigns and innovations.
Neil O'Regan, Managing Director at Shawcity, commented: "We at Shawcity feel it is so important to recognise and support the work being carried out within this environmental sector. It is one of the key issues we are focused on as a business and a subject we are passionate about. Air quality has never been more topical and these innovative ideas and technological developments will help us all move necessary improvements forward."
The judges were delighted at the quality of the entries as well as the enthusiasm shown by all those involved in the work being showcased. The list of winners of the National Air Quality Awards 2015 are as follows:
LOCAL AUTHORITY AIR QUALITY INITIATIVE OF THE YEAR, sponsored by Eminox
Winner: Oxford Low Emission Zone
Oxford City Council and Oxfordshire County Council operate the UK's first extensive Low Emission Zone (LEZ) outside London, which has vastly improved air quality in the City Centre.
PASSENGER TRANSPORT AIR QUALITY AWARD, sponsored by Emissions Analytics
Winner: Optare Electrical Vehicles
Optare's electric buses with zero tailpipe emissions make a significant contribution to improved air quality and reduced emissions in our towns and cities. Optare buses are proven to reduce well to wheel carbon footprint by over 50% in comparison with equivalent diesels.
BEST AIR QUALITY COMMUNICATIONS CAMPAIGN
Winner: Cool World Consulting and Great Ormond St. Hospital
Campaign initiatives included an animation video produced by patients, walking maps, greener travel advice, the creation of street signage for a 'no idling zone', and ambulance driver behaviour change workshops. This project was especially successful in engaging respiratory patients to help produce the communications material itself, as well as getting them to change their behaviour as a result of the campaign.
INNOVATION IN AIR QUALITY TECHNOLOGY AWARD, sponsored by Shawcity
Winner: Emissions Analytics, Real World Testing is the Route to Clean Air
Showcasing unique high volume emissions testing and with over 1,000 real-world tests in its database, Emissions Analytics contributes to both commercial and policy research in a collaborative approach, allowing for a greater understanding of the causes of emissions.
AIR QUALITY CHAMPION AWARD
Winner: Ben Coakley
Ben's contribution to air quality over 15 years has influenced the local communities, local authorities and national policy. His awareness raising websites capture people's imagination and Ben uses these and other innovative ways to communicate and work with people to improve air quality.
Steve Eminton, Editor, airqualitynews.com said: "Air quality is reaching the top of the agenda for communities and politicians alike. These awards show the integrity and dedication of the UK's air quality professionals, and the significant achievements being made towards cleaner air for all."
The awards followed a one day National Air Quality Conference, in association with PTEG (Passenger Transport Executive Group), which took place at The Studio in Birmingham on 1 October, with some of the UK's top figures including policy makers and industry representatives addressing the event.
Steve Eminton added, "Through the conference and awards, we have brought professionals together to debate and drive forward the clean air movement, locally and nationally. The collaborations and partnerships that stem from these events will strengthen the UK's capacity to improve air quality in our towns and cities."
For further information about the awards visit http://www.airqualitynews.com/awards.