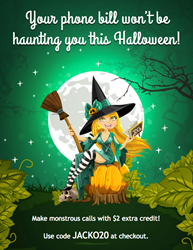 The bonus gift is not a ghost and the phone bill won't be haunting anyone who takes it.
Atlanta, Georgia (PRWEB) October 29, 2015
Halloween is just around the corner and it will not only come with the traditional treats: pumpkin pies, spider cupcakes, and gummy vampire teeth, but also with a special gift from KeepCalling.com: $2 calling bonus.
The gift comes in handy on this occasion, because the extra minutes received can be used in many ways:

the faint of heart can call their family so they don't feel alone on Halloween
trick-or-treaters can trick their friends over the phone
everyone can wish their loved ones 'Happy Halloween!'
In order to take advantage of this spooky but useful promotion, customers need to place a Voice Credit order of at least $20 and use coupon code JACKO2 in the ordering process between October 29-31. By taking advantage of this offer, customers who buy for instance $20 will receive $22 worth of credit for haunting calls.
The Voice Credit gift can be used to place monstrous international calls from:

any phone, through the use of local access numbers
any smartphone, as KeepCalling.com offers a free app, for both iOS and Android devices
any computer, through the Web Call application.
This year, KeepCalling.com customers are invited to celebrate Halloween together with their loved ones, whever they may be. With the bonus received from KeepCalling.com, they can stay close to their phones and even closer to their friends and family. The bonus gift is not a ghost and the phone bill won't be haunting anyone who takes it.
Another surprise prepared by KeepCalling.com for its customers on the occasion of Halloween is a special quiz that was published on KeepCalling.com's Facebook page on October 26th. If customers would like to have some fun and find out what character they should play in a horror movie, they should check Facebook.com/iamhomesick. So far, most respondents should be Hannibal Lecter or Jason Voorhees, but there are two more characters available.
Customers are happy both with the quality and with the prices offered by KeepCalling.com. On Trustpilot, a famous review site, KeepCalling.com receives constant feedback from its customers and currently has an 8.5 rating.One customer writes, 'Good quality service. Great on the road and at home. Exceptional voice clarity. I recommend KeepCalling to people that want a better calling experience.'
To find out more about KeepCalling.com's newest offer and campaigns, customers are invited to visit their blog at blog.keepcalling.com or to follow them on:

Facebook.com/iamhomesick
Twitter.com/KeepCalling
Plus.Google.com/+KeepCalling
KeepCalling.com wishes everyone much fun and fright this Halloween!
About KeepCalling.com
KeepCalling.com is an interactive website designed by KeepCalling, a global telecommunications company registered in 2002 in USA. Presently, KeepCalling provides its services to hundreds of thousands of consumers and businesses, with a focus on customer satisfaction. KeepCalling has been listed by Inc 5000 as one of the fastest growing companies in the USA for 5 consecutive years. In 2015 the company registered a revenue increase of over 200% from 2011 to 2014.