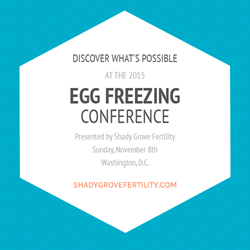 Since 2009, Shady Grove Fertility has performed over 1,000 autologous egg freezing cycles.
Rockville, MD (PRWEB) October 27, 2015
At Shady Grove Fertility, advancements in technology and lab techniques have made egg freezing a reliable option for women who wish to extend their fertility potential. Shady Grove Fertility was one of the first centers to adopt the newest vitrification technology in 2009. Since that time, not only has Shady Grove Fertility performed over 1,000 autologous egg freezing cycles, but beginning in 2010 interest in elective egg freezing has had a yearly increase of 60 percent. Due to the continuous increase, Shady Grove Fertility developed a dedicated Egg Freezing Program to cater to the specific needs of women who pursue elective egg freezing. In response to the heightened interest, Shady Grove Fertility conducts monthly educational seminars throughout the Washington, D.C. metro area to educate people about preserving their fertility. And, due to an overwhelming response following last year's inaugural event, Shady Grove Fertility's second annual Egg Freezing Conference is right around the corner.
The 2015 Shady Grove Fertility Egg Freezing Conference—the only of its kind in the Washington, D.C., area—will be held on November 8, 2015, from 10:30 a.m. to 1:30 p.m. at the District Architecture Center. This educational event is ideal for women in their late-20s to late-30s who are interested in extending their fertility potential, as well as those who have frozen in the past who are interested in sharing their experience. This conference will be free for all guests, but interested parties must register for the event.
The program will be comprised of speaker sessions, a physician Ask the Expert Q&A, and testimonials from women who have previously frozen their eggs. Guests will have the rich opportunity to learn about egg freezing from the medical, scientific, social, and personal perspectives. Additionally, guests can meet with fellow attendees and one-on-one with physicians during the conference breakfast and intermission.
"We are committed to making egg freezing education accessible to all women. By discussing the science of preservation, returning patient success rates, and available financial options, conference attendees will have enough insight to make an informed decision," said Joseph Doyle, M.D., reproductive endocrinologist with Shady Grove Fertility and a presenter at the event.
About Shady Grove Fertility
Shady Grove Fertility is a leading fertility and IVF center of excellence offering patients individualized care, innovative financial options, and pregnancy rates among the highest of all national centers. Since 1991, more than 37,000 babies have been born to patients from all 50 states and over 35 countries around the world. Shady Grove Fertility physicians actively train residents and reproductive endocrine fellows and invest in continuous clinical research and education to advance the field of reproductive medicine through numerous academic appointments and partnerships with Georgetown Medical School, Walter Reed, and the National Institutes of Health. Today, 34 reproductive endocrinologists, urologists, Ph.D. scientists, geneticists, and more than 600 highly specialized Shady Grove Fertility staff care for patients in 18 full-service offices, and six satellite sites throughout Pennsylvania, Maryland, Virginia, and Washington, D.C. For more information, call 1-888-761-1967 or visit ShadyGroveFertility.com.