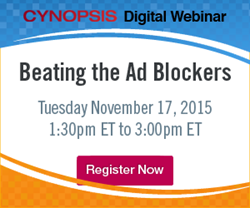 New York, NY (PRWEB) October 27, 2015
Cynopsis Digital is tackling the hot-button issue of ad blocking with a just-announced Webinar, Beating the Ad Blockers, which will take place November 17. Considering that roughly $21.8 billion is lost in global revenue this year due to blocked ads, per a PageFair/Adobe study, the Cynopsis Webinar will present smart, new strategies for turning viewers and consumers into brand allies instead of brand antagonists.
"Ad blocking is a growing problem; despite the threat it poses, there are an array of tools at your disposal," said David Teich, Associate Editor of Cynopsis Digital and the Webinar moderator. "The question is, will the industry greet ad blocking as an insurmountable setback, or as an opportunity to evolve and improve?"
The Nov. 17 webinar's panel of experts will explore practical strategies that advertisers, publishers and programmers can use to confront ad blocking. You'll learn how to navigate around the blockers and reach as many eyeballs as possible.
Attendees will leave this 90-minute webinar with the know-how to:
Adjust placement and targeting strategies.
Create messaging that deters blocking.
Find solutions for the unique challenges of mobile.
Understand the pros and cons of redirecting users to other pages.
Beat the blockers by understanding the "acceptable ads" initiative
The Webinar will allow for real-time Q&A's to ensure specific questions are answered. Register your team today for the Cynopsis Digital webinar "Beating the Ad Blockers."
All Webinar attendees will receive full access to speaker presentations for one year, along with a certificate of completion. Contact Trish Pihonak at trish@cynopsis.com with any questions.
About Cynopsis Media:
Cynopsis Media is what the TV industry reads first every day. The Cynopsis Media family of products includes the media industry's most-read daily, Cynopsis, plus sister dailies Cynopsis Digital and Cynopsis Sports, the Cynopsis Jobs board and special reports. Serving TV, agency and brand professionals, Cynopsis Media produces conferences, webinars, and awards programs that are second to none. Find out more at cynopsis.com.