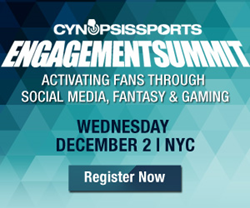 New York, NY (PRWEB) October 28, 2015
Cynopsis has unveiled the program and speakers for the ground-breaking Sports Engagement Summit, slated for Wednesday, December 2 in New York City. The conference will bring together many of the world's most accomplished social media communicators in the sports industry. Attendees will have access to the knowledge and techniques used by brands, leagues and networks as they motivate, activate and aggregate their fans.
Executives from agencies, brands, and networks will share key perspectives and case studies. Speakers come from leading companies such as CSE, ESPN, MLB, MVPindex, NBA, NBC Sports, Twitter, USOC, UFC, Whistle Sports, Yahoo and more.
"Shifting viewing habits make the ability to not only connect, but to activate and influence, an increasingly vital piece of the branding formula," said Chris Pursell, Summit Chairman and Director of Sports Content at Cynopsis. "This year's roster of speakers, combined with the presentation of our Leaderboard, will showcase actionable strategies leveraging video, data, gaming and media that will open the doors to fresh approaches and a richer connectivity that will boost a brand's community and maximize their game plan."
The one-day event will be held at the New York Athletic Club in New York City and attendees will be immersed in the strategies that have proven successful for some of the world's biggest brands, as well as gain insight on the most successful tools that are driving social media today and the trends behind them. For details, go to http://www.sportsengagementsummit.com
For questions regarding attending the event, contact Sarah Martinez at sarah(at)cynopsis(dot)com. For sponsorship information, contact Vice President of Sales and Marketing Mike Farina at mike(at)cynopsis(dot)com. For speaker questions, contact Chris Pursell at Chris(at)cynopsis(dot)com.
About Cynopsis Media:
Cynopsis Media is what the TV industry reads first every day. The Cynopsis Media family of products includes the media industry's most-read daily, Cynopsis, plus sister dailies Cynopsis Digital and Cynopsis Sports, the Cynopsis Jobs board and special reports. Serving TV, agency and brand professionals, Cynopsis Media produces conferences, webinars, and awards programs that are second to none. Find out more at cynopsis.com.