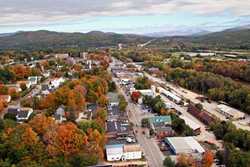 Central New Hampshire will boast over a dozen vendors in this year's NH Open Doors event.
Plymouth, NH (PRWEB) October 28, 2015
This year marks the 10th annual New Hampshire Open Doors, a statewide shopping and touring event. The event takes place November 7th - 8th throughout New Hampshire giving visitors a chance to experience the creativity and tradition of NH made products. With over 200 vendors participating in this year's event, there is a lot to discover.
Central New Hampshire will boast over a dozen vendors in this year's NH Open Doors event. Some of these vendors include Hundelrut Studios, located in Plymouth, offering a variety of greeting and note cards, stationery, silk-screened shirts and canvas bags, posters, bookmarks, original drawings and paintings and many more handcrafted designs by Donald and Sarah Hundgen, the studio owners. Eric Johnson Furniture, in Campton, specializes in 17th and 18th century antique reproduction furniture, which can be customized during the NH Open Doors visit! Visit the Big Rock Goat Farm, where the Kimble family produces quality goat milk soaps as well as other natural products along the southern edge of the White Mountains in Rumney. There will be opportunities to view demonstrations by different artists and craftspeople as well as participate in tastings at some of the local wineries.
NH Open Doors hosts a passport contest throughout the two day touring event. The passport is downloadable from the NH Open Doors website. Visitors must get signed recognition of visiting ten or more locations participating in the two day event and will then be entered to win some great prizes such as gift cards and limited edition handcrafted items.
NH Open doors is managed by the League of NH Craftsmen, a non-profit, craft education organization. Also receiving support from NH Made as well as other NH craft and business organizations. League of NH's mission is to encourage, nurture and promote the creation, use and preservation of traditional craft through inspiration and education of artists and the community. There are several League of NH Craftsmen fine craft galleries located throughout the state that can be visited year-round.