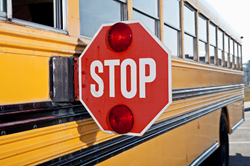 LINCOLN, R.I. (PRWEB) October 27, 2015
School buses are the primary mode of transportation for many children during the school year. It's a safer alternative than riding in a car, but it can still be dangerous. That's why Amica Insurance is offering tips to help protect your child while riding the bus.
According to the National Highway Traffic Safety Administration, nearly 500 students ages 5 to 18 die each year in passenger vehicles during school travel hours. Amica is sharing the following bus safety tips from the National Safety Council for parents to review with their children:

When waiting at the bus stop, avoid traffic and stay alert. Never walk out into the street or roughhouse with peers.
Once on the bus, find a seat quickly and sit down. Never put your head, arms or hands out the bus windows.
When you've reached your stop, wait for the bus to stop completely before leaving your seat. Walk to the front door and exit while using the handrail.
Make sure the driver can see you before crossing the street. Always stop at the edge of the street and look left, right and left again before crossing.
About Amica Insurance
Amica Mutual Insurance Co., the nation's oldest mutual insurer of automobiles, was founded in 1907. The company, based in Lincoln, Rhode Island, is a national writer of auto, home, marine and umbrella insurance. Life coverage is available through Amica Life Insurance Company, a wholly owned subsidiary. Amica employs more than 3,400 people in 44 offices across the country. For more information, visit Amica.com.
Media inquiries can be sent to MediaCenter(at)amica(dot)com.
Twitter: Amica
Facebook: Amica Mutual Insurance Co.