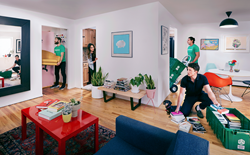 Chicago, IL (PRWEB) October 27, 2015
Two years after MakeSpace launched with the goal of revolutionizing the antiquated $24 billion storage industry, the company announced a rollout of new features in Chicago.
MakeSpace is now available same-day for Chicago residents. With the latest update to the MakeSpace iOS app, users can have their items - such as bikes and summer clothing - picked up and on their way to storage in less than 30 minutes. With the launch of its same-day capabilities, the company is also announcing that it will begin storing furniture and has lowered its pricing.
"We're building the future of storage. With each iteration, we are creating a more effective and convenient storage solution and we're excited to bring these features to Chicago," said Sam Rosen, founder and CEO of MakeSpace. "With these releases, we're able to solve some of our most consistent user requests; same-day appointments and the ability to store furniture."
Same-Day Storage Service Through New MakeSpace iOS App
Scheduling a MakeSpace appointment is not only faster, but also more convenient than ever. Using the free MakeSpace iOS app on their iPhone, iPad, or iPod touch, users can do the following in just a few taps:

Enter their address and determine how fast MakeSpace will arrive at their door
Schedule a drop-off of free bins or pick-up of bins / larger items and watch the MakeSpace van's journey to their home through GPS capabilities
Take and upload pictures of their items
Furniture Pick-Up, Storage and Delivery
MakeSpace now stores furniture in both Chicago and Washington, D.C. Users can store just a few pieces or all of their furniture. MakeSpace will pick up users' furniture, store it in their secure storage facility and deliver it back when they need it. Visit makespace.com/chicago or makespace.com/dc or call 1-800-663-4791 to get a free furniture storage quote.
Lower Storage Pricing
MakeSpace removed their bin minimums and now offers more affordable storage pricing, including space-based plans similar to traditional storage units, for users in Chicago and Washington, D.C.
Getting Started

$4.99 per bin
$9.99 per large item (e.g. luggage, bikes, golf clubs and air conditioners)
Three-month storage minimum
Bins are dropped off and picked up for free
Storage units (for furniture, etc.) start at $99 per month
Getting Stuff Delivered Back

"A large percentage of our customers use MakeSpace as a lifestyle extension – swapping out items seasonally. So we've removed the minimum storage requirement and lowered our prices to make it easier and cheaper for seasonal MakeSpace users to move things in and out of storage," said Rosen. "Just like Amazon has become the defacto service for everyday low prices with a premium service offering, MakeSpace too is providing a superior service and price that's unbeatable by local storage competitors."
About MakeSpace
MakeSpace is a next-generation, on-demand storage solution that takes the pain out of traditional self-storage in New York City, Chicago and Washington, D.C. With a few clicks, MakeSpace picks up customers' belongings from their door, takes them to a secure storage facility and delivers the items back whenever needed. MakeSpace also collects and delivers donations for free through its Goodwill partnership. For those living outside the local service areas, MakeSpace Air (http://www.makespace.com/air) provides hassle-free storage . Find out more about MakeSpace and get started at $4.99 a month at makespace.com or by downloading the MakeSpace iOS app.