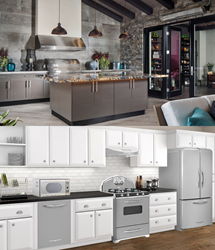 Atlanta, GA (PRWEB) October 28, 2015
October is National Kitchen & Bath month and Danver Stainless Outdoor Kitchens, Brown Jordan Outdoor Kitchens and Elmira Stove Works have on-trend gray products available for upcoming remodel and new construction projects. Design history has shown gray to be synonymous with cold, sterile, boring environments. Within recent years, the color gray's reputation has made a complete turnaround in the realm of home design. Neutral gray can be seen in every room of the home, indoors and out, having been transformed from blasé to stunning and versatile, when accessorized appropriately.
Gray has shown to be functional in exterior and interior spaces. Danver Stainless Outdoor Kitchens, the nation's premier stainless outdoor kitchen manufacturer, has cabinetry that is fabricated with commercial grade 20-gauge stainless steel and is available in a wide range of powder coat finishes that can create a monochromatic gray or colorful contrasting appearance. The natural durability of stainless steel coupled with the company's high-tech powder coat process lends protection from harsh chemicals such as chlorine, ocean salt and muriatic acid. Continuing the trend outdoors, the Brown Jordan Outdoor Kitchens brand has cabinetry available in wood-grain and powder coat finishes, including four shades of gray: Mica, Platinum, Titanium, and Versailles. The company also features two metal inserts in a Bark or Weave pattern to create a textured gray look.
Whether gray is the primary color or secondary accent, it can make a major impact. The Northstar collection by Elmira Stove Works has various kitchen appliances available in nine standard colors, including the "stain-least" Quicksilver finish, as well as over 200 distinctive custom colors that can serve as complementary shades to a gray space. For those who desire, a more traditional gray yet retro contemporary look, the new Model 1950FTSS stainless steel refrigerator features top-of-the-line, 304-stainless steel on all exterior surfaces. No matter the product, Elmira delivers on style, function and trend.
For more information about Danver Stainless Outdoor Kitchens, visit http://www.danver.com. To learn more about Brown Jordan Outdoor Kitchens, go to http://www.brownjordanoutdoorkitchens.com. View more from Elmira Stove Works at http://www.elmirastoveworks.com.