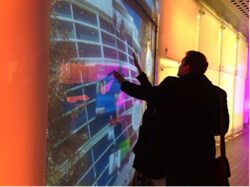 In building a university entrepreneurial ecosystem, universities can't follow a 'model' system.
Washington, D.C. (PRWEB) November 03, 2015
Representatives from the Bauman Growth Lab at Russia's preeminent engineering university, Bauman Moscow State Technical University (BMSTU), met with their American counterparts in higher education with a shared goal: to advance entrepreneurial competency in engineering education. The cohort from BMSTU's newly launched center for entrepreneurship visited five U.S. universities in Philadelphia, Pittsburgh, and Boston to advance U.S.-Russia university innovation and foster entrepreneurship collaborations between the two countries.
U.S. participating universities included the University of Pennsylvania, Drexel University, University of Pittsburgh, the Massachusetts Institute of Technology, and Northeastern University. The delegation exchanged best practices on developing entrepreneurship education for engineering students, co-working spaces, mentorship programs, intellectual property protection, and technology transfer.
Administered by American Councils and supported by the US-Russia Foundation, the delegation began at the University of Pennsylvania to learn about Penn's global initiatives and innovation centers at the Wharton School and Singh Center for Nanotechnology, and participated in the launch of the Y-Prize student engineering-commercialization competition. Later, the group met with Drexel University's Close School of Entrepreneurship and the Drexel Nanophotonics Lab.
In Pittsburgh, the delegates discussed entrepreneurship programs and curriculum for engineering students with the University of Pittsburgh's Swanson School of Engineering and Katz Business School. Student-led organizations at Pitt, including Blast Furnace and the Bioengineering Innovation and Commercialization Group, shared insights on creating a culture of student entrepreneurship.
In Boston, the Massachusetts Institute of Technology (MIT) showcased its mentorship programs, networks for students focused on engineering and entrepreneurship, and university- industry relations. The delegation met with the Office of Digital Learning, the Deshpande Center, the Gordon Engineering Leadership Program, and toured the MIT Media Lab.
Northeastern University showcased the IDEA Accelerator, an ecosystem for innovation, and learned how students are driving the entrepreneurship education practices. "In building a university entrepreneurial ecosystem, universities can't follow a 'model' system," says Daniel McCarthy, Distinguished Professor of Global Management and Innovation at Northeastern University. "Ecosystems should be built out of the given conditions, and rise organically so that students are driving opportunities."
Following the U.S. study tour, BMSTU will host U.S. university experts to conduct master classes and exchanges to develop engineering entrepreneurship curriculum and extracurricular activities. BMSTU's Growth Lab will deepen collaborations with U.S. university administrators, faculty, and student groups to build collaborative university entrepreneurship ecosystems.
About the US-Russia Innovation Corridor
Supported by American Councils for International Education and funded by the US-Russia Foundation, the U.S.-Russia Innovation Corridor connects Russian startups to universities, scientists, business development experts, industry associations, and customers in the U.S. with the goal of accelerating commercial activity of scientific projects and creating win-win economic partnerships.
Formed in 2013, the US-Russia Innovation Corridor has provided mentorship and organized intensive working visits for over 30 administrators and startups from academic institutions, including Bauman Moscow State Technical University, the University of Nizhny Novgorod, Perm National Research University, Yaroslavl State University, National Mining University in St. Petersburg, and Kazan Federal University. The U.S.-Russia Innovation Corridor is an initiative of the Enhancing University Research and Entrepreneurial Capacity (EURECA) program.
For more information about the U.S.-Russia Innovation Corridor, visit USRIC's website at http://www.usric.org or follow @usric_en on Twitter for more information on current and future activities.
About American Councils
American Councils for International Education is a premier, international nonprofit creating educational opportunities that prepare individuals and institutions to succeed in an increasingly interconnected and rapidly changing world. Through academic exchanges, overseas language immersion, data-focused research, and educational development programs, American Councils designs and administers innovative programs that broaden individual perspectives, increase knowledge, and deepen understanding.
For 40 years, American Councils has responded to the needs of the communities where we work with hundreds of robust, international education programs that span over 80 countries, 40 languages, and are represented by over 55,000 alumni worldwide, including government leaders, top international educators, business innovators, public officials, and K-16 students.
Add your voice to the conversation on Twitter @AC_Global #languagematters
About Bauman Moscow State Technical University
Bauman Moscow State Technical University (BMSTU) was founded in 1830 as the first technical university in Russia. Consistently ranked the top Russian engineering education institutions, BMSTU has 19 departments providing full-time education, providing postgraduate and doctorate programs. More than 19,000 students study at BMSTU, and to date, nearly 200,000 engineers have graduated from the university. More than 320 doctors of science (post-doctorate equivalent) and 2,000 candidates of science (PhD equivalent) teach and conduct research in BMSTU. There are eight scientific and educational divisions, each consisting of a scientific and educational branch. BMSTU enjoys wide international cooperation, including relations with more than 70 universities in Europe, America and Asia.
About the US-Russia Foundation
The US-Russia Foundation for Economic Advancement and the Rule of Law (USRF) is the legacy foundation of The US Russia Investment Fund (TUSRIF), funded by the U.S. Government in 1995 to promote the development of the private sector in Russia through direct investment and technical assistance to private Russian enterprises. The mission of USRF is to support the long-term economic development of Russia's market economy, working in close partnership with the Russian government and leading Russian institutions. In this way, USRF seeks to build strong ties between the United States and Russia.