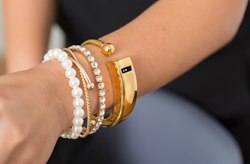 "We are thrilled to introduce pieces for the Fitbit Flex just in time for the holiday season – the stunning Pavé bracelet is perfect for holiday celebrations, and the Cuff bracelet is our answer to requests for a classic, all-metal design," Sarah Shapiro
San Francisco, CA (PRWEB) October 28, 2015
Three New Jewelry Styles Introduced for Holiday 2015 Including a Design for the Fitbit Charge HR
Mixing Fashion, Fitness, and Technology
Bezels & Bytes (http://www.bezelsandbytes.com) is pleased to announce three new styles for their Holiday 2015 collection, offering tech savvy women over a dozen stylish, high quality designs to dress their Fitbits. For the first time, Bezels & Bytes will offer jewelry to accessorize the increasingly popular Fitbit Charge HR.
Launched in January 2015 through an Indiegogo campaign, Bezels & Bytes creates jewelry for the Fitbit, including high quality bracelets and necklaces made of 12k gold and rhodium plated brass, all nickel-free. Its growing fan base appreciates the style and quality at a great price point (average of $78).
The company is founded by two Bay Area women, Sarah Shapiro, a former buyer at Bloomingdale's, and Melissa Koerner, a former marketer at Gap, Inc. "Our intention is to empower women with great style and great technology," say Shapiro and Koerner. The team bonded as new moms who relied on fitness trackers but disliked wearing the rubber band. With that in mind, they decided to create accessories for technology that added to a woman's style, instead of detracting from it.
"We are thrilled to introduce pieces for the Fitbit Flex just in time for the holiday season – the stunning Pavé bracelet is perfect for holiday celebrations, and the Cuff bracelet is our answer to requests for a classic, all-metal design," says Shapiro. Since launching, Shapiro and Koerner have appreciated the dialogue with customers via social media. "At our accessible price point starting under $80, customers are requesting multiple styles to switch their look on any given day or occasion. Our new designs give women two more stylish options to keep their Fitbit fun and interesting to wear after the novelty has worn off."
In response to customer requests for jewelry for the Fitbit Charge HR, which is encased entirely within a rubber band, Bezels & Bytes is introducing charms to personalize and dress up its appearance. The charms are similar to all other Bezels & Bytes jewelry in that they allow the wearer to fully interact with the technology.
"Our customers love seeing the screen that shows their progress, an important phone call, or best yet, the flashing lights to congratulate them on achieving a goal," says Koerner.
The co-founders are thrilled when customers tell them they receive compliments on the jewelry first, and then they surprise people by showing them the screen. "We look forward to hearing more about how our stylish customers want to wear their tech," say Shapiro and Koerner.
Bezels & Bytes Introduces Three New Styles in Time for the Holiday 2015 Season:
Bezels & Bytes Cuff Bracelet for Fitbit Flex: 12-karat gold, rose gold, and rhodium silver-tone plating. For $98, it's available with the pavé cone, solid cone, or metal ball accent. (Available early November)
Bezels& Bytes Pavé Bracelet for the Fitbit Flex: The stunning bracelet for the Fitbit Flex comes in black or bright pink leather and is priced at $88. (Available mid-November)
Bezels& Bytes Charms for the Fitbit Charge HR: Finally a chic solution for the Fitbit Charge HR! This new design (available late November) adorns the Charge HR and allows wearers to personalize their tech in three different styles and finishes - the stud, bow and basketweave, available in gold, rose gold and silver-tone. $30 each, or three pieces for $75.
High Res Images and Artwork are Available Upon Request, or downloadable at http://www.bezelsandbytes.com/media
About Bezels & Bytes
Bezels & Bytes was founded in the San Francisco Bay Area in January 2015 by Sarah Shapiro and Melissa Koerner -- moms who rely on technology to stay connected and get things done, but don't want to sacrifice their sense of style. With over 20 years of combined retail experience at Bloomingdale's and Gap, Sarah and Melissa love fashion and are excited to find solutions on how to incorporate technology into daily style. Sarah's favorite way to reach her step goal is walking around a scenic reservoir in her neighborhood, often with a phone and stroller in hand. Melissa counts her steps in style walking her toddler to pre-school, while enjoying their first conversations.
Follow Us on Social Media:
Facebook/bezelsandbytes
Twitter @bezelesandbytes
Instagram @bezelsandbytes
Media Contact:
Margo Donohue
margodono@gmail.com
(917) 679-6945