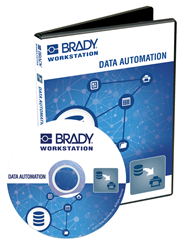 We designed Brady Workstation Data Automation to be simple. In just a few clicks and minimal training, you're ready for automated labeling.
MILWAUKEE, Wis. (PRWEB) October 28, 2015
Brady (NYSE:BRC), a global leader in industrial and safety printing systems and solutions, today released its Brady Workstation Data Automation label app. As one of the first product and wire identification solutions built into the Brady Workstation label creation software, Data Automation allows users to easily integrate automated label printing into the workplace.
"We designed Brady Workstation Data Automation to be simple. In just a few clicks and minimal training, you're ready for automated labeling," says Steve Caster, global product specialist, software for Brady. "With an intuitive user interface, you're able to easily integrate label data from your third party system into automated label printing. By using a data system your employees already know and establishing an automated process, you are able to reduce accidental errors, user training and time-consuming data entry."
Brady Workstation Data Automation is companion software to LabelMark™ labeling software. LabelMark is used to create label templates that are then saved to a location accessible by the computer that's running Data Automation.
To get started, Data Automation checks for an incoming CSV-based file from your third party system. From there, it will read the data and align it with pre-defined fields on the label template. Last, the user can assign a template to a specific printer for dedicated printing. Data Automation comes with five channels, giving users the ability to configure five different input locations, templates and printers.
Brady Workstation Data Automation is available as an app through the Brady Workstation store or as a CD. Brady Workstation is a software platform which serves as the base for a variety of labeling applications.
For More Information
For Brady's complete product offering, visit BradyID.com.
About Brady Corporation:
Brady Corporation is an international manufacturer and marketer of complete solutions that identify and protect people, products and places. Brady's products help customers increase safety, security, productivity and performance and include high-performance labels, signs, safety devices, printing systems and software. Founded in 1914, the Company has a diverse customer base in electronics, telecommunications, manufacturing, electrical, construction, medical, aerospace and a variety of other industries. Brady is headquartered in Milwaukee, Wisconsin and as of August 1, 2015, employed approximately 6,400 people in its worldwide businesses. Brady's fiscal 2015 sales were approximately $1.17 billion. Brady stock trades on the New York Stock Exchange under the symbol BRC. More information is available on the Internet at http://www.bradycorp.com.
# # #