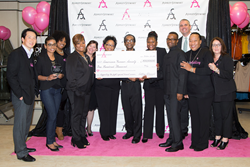 "Ashley Stewart is more than a brand; it has been a movement of positive change in our communities for over two decades. We have been through an astonishing transformation over the past two years, but what has not changed is our commitment to the causes i
Secaucus, NJ (PRWEB) October 28, 2015
Secaucus, NJ – In honor of National Breast Cancer Awareness Month, Ashley Stewart, a global plus-size fashion brand, launched their True Divas Fight: Support Breast Cancer Awareness campaign in support of the American Cancer Society. Fueled by the generosity of their customers, Ashley Stewart is proud to announce a donation of $100,000 to the American Cancer Society, whose mission is to work relentlessly to save lives and create a world with less cancer.
Beginning in late September, Ashley Stewart featured a variety of pink ribbon fashion items in their stores and online at http://www.AshleyStewart.com and encouraged customers to join in showing their support for the cause. The True Diva Fight campaign is one part of the company's core mission, #ASGives, that focuses on giving back to communities they serve. The #ASGives mission has included donations to charities in the communities throughout the country in areas where their 89 stores are located, scholarships through the United Negro College Fund, and clothing donations to the YWCA.
"Ashley Stewart is more than a brand; it has been a movement of positive change in our communities for over two decades. We have been through an astonishing transformation over the past two years, but what has not changed is our commitment to the causes important to our customers. Our most loyal friends, our customers, supported us when we had nothing, and we will never forget that," stated Executive Chairman and CEO James Rhee.
The culmination of the campaign was on October 20th, 2015, when the Ashley Stewart family presented a check for $100,000 to the American Cancer Society at their 125th Street Harlem store. All 89 stores around the country have committed themselves to support the fight against breast cancer and are celebrating this huge success nationally.
Through the end of October 2015, customers still have the opportunity to express their support by purchasing breast cancer awareness geared product including a Pink Ribbon keychain, True Divas Fight tees, a Pink Ribbon sweater, #IAMAshley ribbon tee, Think Pink duster, Tough Chick Tee, Love Rhinestone pin, and assorted awareness jewelry. Prices range from $10.50 to $39.50 and will be available in stores and online at http://www.AshleyStewart.com as supplies last.
To further contribute to the cause, customers have the opportunity to express their support by participating in Ashley Stewart's social media initiatives. Throughout October, customers can visit Ashley Stewart's Facebook, Twitter and Instagram pages to share an image or quote of why the cause is meaningful to them with the #ASGives hashtag.
About Ashley Stewart
Ashley Stewart has captured the hearts and minds of curvy women since its founding in 1991 in Brooklyn, New York. Today, Ashley Stewart offers the hottest looks with stores across the United States, a rapidly growing ecommerce presence at http://www.AshleyStewart.com, and an industry-leading social media presence. Ashley Stewart stands for uncompromising style, fashion, fit and empowerment for the trend-savvy woman who flaunts her curves. From the perfect pair of jeans to churchflow dresses, smoking hot outfits to #DaretoBare intimates, Ashley Stewart has you covered.
About the American Cancer Society
The American Cancer Society (ACS) is a global grassroots force of 2.5 million volunteers saving lives and fighting for every birthday threatened by every cancer in every community. As the largest voluntary health organization, the Society's efforts have contributed to a 20 percent decline in cancer death rates in the U.S. since 1991, and a 50 percent drop in smoking rates. Thanks in part to the ACS's progress, nearly 14 million Americans who have had cancer and countless more who have avoided it will celebrate more birthdays this year. The ACS is determined to finish the fight against cancer and is finding cures as the nation's largest private, not-for-profit investor in cancer research, ensuring people facing cancer have the help they need and continuing the fight for access to quality health care, lifesaving screenings, clean air, and more. For more information, to get help, or to join the fight, call us anytime, day or night, at 1-800-227-2345 or visit cancer.org.
Stay Connected:
Visit our stores around the country for a one-on-one shopping experience with our in-store team: http://www.ashleystewart.com/stores

For More Information Contact: gwen(at)wunderlichinc(dot)com or 718-612-3990