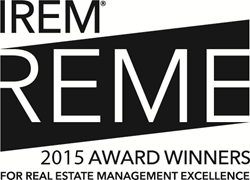 The 2015 REME Award Winners are an exceptional group who showcases the outstanding work of those dedicated to improving the places we live, work and shop.
Chicago, Ill. (PRWEB) October 27, 2015
IREM® celebrates the 2015 REME Award winners – these individuals and companies have achieved a higher level of real estate management excellence, have advanced the profession, and have shown brilliant innovation and leadership. This accomplished and exceptional group showcases the outstanding work of those dedicated to improving the places we live, work and shop.
The REME Award winners included a wide spectrum of initiatives – from an innovative leadership development program to a summer workforce program employing teenagers in low-income properties, from a program focused on ending homelessness to sustainability programs designed to repurpose coffee grounds and diseased trees.
"I am thrilled to congratulate the 2015 REME Award Winners – and to recognize them for their leading-edge, business practices and for fostering innovation within the real estate management industry locally and globally," says Lori Burger, CPM®, IREM® President, Eugene Burger Management Corporation, AMO®, Rohnert Park, California. "I'd also like to extend a special thanks to ABM, for being the founding sponsor of the 2015 REME Awards."
Explore videos of the 2015 REME Award Winners: http://www.irem.org/remewinners
Contact pr(at)irem(dot)org for more photos/information of the event.
REME Award Winner – Leadership
DDG
New York, New York
Initiative: The ThreeSixty Leadership program creates leadership opportunities for property management professionals through experiences that broaden their knowledge base, enhance skills, encourage personal growth and spark interest in the industry.
REME Award Winner – Work Place Environment
MEB Management Services, AMO®
Phoenix, Arizona
Initiative: Big Audacious Miracle (BAM) is a program focused on ending homelessness and encouraging employees to reach out to local communities with the goal of making sure that every person has a home.
REME Award Winner – Corporate Responsibility: People
Continental Management, LLC
Bingham Farms, Michigan
Initiative: The Summer Workforce program provides valuable work and educational experiences for teenagers who live on the company's low-income managed communities.
REME Award Winner – Corporate Responsibility: Sustainability
Bentall Kennedy
Toronto, Canada
Initiative: The ForeverGreen strategy focuses on reducing the amount that is sent to landfills while driving improvements in waste diversion numbers, including an E-Waste Challenge for shopping centers during Earth Week, a "coffee footprint" program to repurpose coffee grounds into sustainable soil, and a program to repurpose diseased trees into valuable wood products.
REME Award Winner – AMO® of the Year
Draper and Kramer, Incorporated, AMO®
Chicago, Illinois
Executive CPM®: Kimmberly M. Donnelly, CPM®
Draper and Kramer, founded in 1893, is a vertically integrated property and financial services company. Headquartered in Chicago, Draper and Kramer is a Midwestern firm with the capability to serve its clients nationwide and beyond. Services include: Arranging debt and equity financing for commercial property, management of all property types, project management and condominium conversion services, advisory, consulting and valuation services; and risk management/insurance.
REME Award Winner – ARM® of the Year
Duane Komine, ARM®
Hokua
Honolulu, Hawaii
Duane Komine, ARM® is the premier residential manager in Hawaii since 1985 and is the General Manager of the award-winning, mixed-use luxury condominium Hokua. He works closely with the Board of Directors led by President D. Scott MacKinnon; Hawaiiana Management Company, Ltd. (Mike Hartley, President), and the Kobayashi and MacNaughton Groups (Kathy Inouye, COO and Duncan MacNaughton, Chairman). Duane is a three-time recipient of the IREM® Hawaii Chapter's ARM® of the Year award. An ARM® since 1989, he is vice-president of the Hawaii ARM® Executive Committee and has been elected as the Friends of IREM® co-chair for his local IREM® Executive Board.
REME Award Winner – CPM® of the Year
Dr. Deborah Phillips, CPM®
The Quadrillion
McDonough, Georgia
Dr. Deborah Phillips, CPM® is President of The Quadrillion, an international consulting firm. Dr. Phillips also serves as President for the Georgia Apartment Industry Education Foundation and is the lead instructor in their Residential Property Management programs. She also teaches distance learning courses and assists in the curriculum development for other real estate programs. Dr. Phillips completed her Ph.D. from Georgia Tech, where her research focused on Resident Satisfaction and Employee Engagement. Debbie also holds a Master of Science degree in Housing and Consumer Economics, with an emphasis in Seniors Housing, and a Bachelor of Science degree in Consumer Journalism.