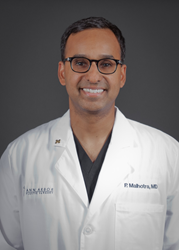 Each of my more than 6,000 procedures has been an opportunity to help another patient realize the motto of Ann Arbor Plastic Surgery—'beauty revealed'—in her or his life.
Ann Arbor, Michigan (PRWEB) October 29, 2015
On Sept. 24, 2015, Dr. Pramit Malhotra of Ann Arbor Plastic Surgery in Michigan performed his 6,000th procedure.
It would take a doctor performing one procedure a day, every day, seven days a week, almost 16 1/2 years to reach that milestone.
Dr. Pramit Malhotra, of course, handles more than one procedure a day, focusing on the face, body, and breasts. The bulk of these plastic surgery procedures are considered cosmetic surgeries, and include breast augmentation, tummy tuck, liposuction, facelifts, rhinoplasty, eyelid surgery, neck lifts, and more. He also performs a custom plastic surgery procedure known as the PowerTuck, which combines elements of a tummy tuck and abdominal liposuction to eliminate excess fat and unwanted, sagging skin and tissue at the midsection. When paired together as a PowerTuck, these procedures can give patients a new silhouette.
While his specialty is cosmetic surgery, he also devotes time each year to performing reconstructive plastic surgery, annually helping more than 150 patients struggling with loss of facial tissue due to cancer, accidents, or injury.
Dr. Pramit Malhotra's 6,000th procedure milestone came just before he welcomed a new addition to his staff: Abbey Bosco, RN. As a registered nurse, she will be working as a patient care coordinator and an advanced injector at Ann Arbor Plastic Surgery. She joins Ilanit (Illy) Samuels, PA, who began working at the practice as an advanced injector in March 2015.
Advanced injectors handle minimally invasive treatments, as opposed to plastic surgery procedures. These treatments include BOTOX® for smoothing wrinkles and dermal fillers, such as Juvéderm®, for filling out sunken hollows on the face and plumping up lips.
If current trends are any indication, Dr. Pramit Malhotra and the rest of the team at Ann Arbor Plastic Surgery will have plenty of opportunity to continue to work together on 6,000 more procedures, as plastic surgery and minimally invasive treatments continue to grow in popularity. According to an annual survey by the American Society of Plastic Surgeons, cosmetic procedures performed by member surgeons in the United States rose 1 percent from 2013 to 2014, while non-surgical cosmetic procedures rose 4 percent in that same time period.
According to the survey, the most popular plastic surgery procedure performed in 2014 was breast augmentation, while the No. 1 minimally invasive treatment went to BOTOX®, Dysport®, and other prescription cosmetics that temporarily reduce the appearance of forehead and other wrinkles.
To learn more about the plastic surgery and other procedures available at Ann Arbor Plastic Surgery in Michigan, call the Ann Arbor office at (734) 913-5100 or the Jackson office at (517) 789-9800. You can also visit annarborplasticsurgery.com to discover information about the treatments, as well as about Dr. Pramit Malhotra, who is board certified in both plastic surgery and otolaryngology.