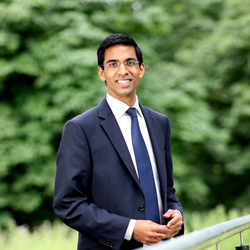 We look forward to bringing huge numbers of jobs to the region and working with all local partners as we enable more students to study with our world-leading universities. - Rajay Naik, Keypath Education's CEO (Europe)
COVENTRY, UK (PRWEB) October 29, 2015
Keypath Education, the most successful provider of marketing and advertising services to universities in the United States, has decided to base its European headquarters in Coventry. The company, which is also a world leader in designing, marketing and delivering online degrees for leading universities globally, has worked with more than 4,000 universities since being founded in 1989. Whilst the company's headquarters will remain in Chicago, all European operations will now be based from Innovation Village in Coventry city centre.
Rajay Naik, chief executive officer (Europe), said, "We will be investing millions of pounds in British higher education over the coming years and are passionate about helping UK universities deliver online degrees to students around the world. We considered a range of locations for our long-term European headquarters and found that Coventry offered a host of advantages. We look forward to bringing huge numbers of jobs to the region and working closely with our partners as we enable more students to study with our world-leading universities."
Keypath Education will help Britain's universities reverse the decline in international students. Between 2011 and 2013, Britain's share of these overseas learners declined from 37 percent to 31 percent – the first time it has declined in over 30 years. Given that online learning helps students study in their own time alongside any family or work commitments, it increases access to education for those who would previously be shut out. Therefore, as a result of Keypath Education's innovation, accommodation costs are no longer a factor, and students can study throughout their lives without having to pause their career or family responsibilities.
Keypath Education expects that its partnerships with British universities will mean its investment in British education will rise to many millions of pounds by the end of 2016. The company has more than 600 employees in offices throughout the world, including London, Coventry, Chicago, Kansas City, Toronto and Melbourne.
Further information
For further details, or to arrange an interview with a member of the European leadership team, please contact Hannah Lemon at hannah.lemon(at)keypathedu.com.
About Keypath Education
Keypath Education partners with higher education institutions around the world to launch online degree programs, increase student numbers and enhance the student experience using its proprietary technology suite. The company has helped more than 4,000 higher education institutions better serve students and graduates, resulting in a strong reputation for its education mission and quality in the UK, the United States, Australia and Canada. Since it was founded more than 26 years ago, Keypath Education has been dedicated to changing lives through education. Learn more at http://www.keypathedu.com.