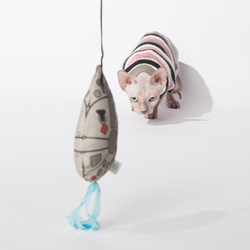 Newtown Square, PA (PRWEB) October 27, 2015
Laugh it up, fuzzball — because the force is strong with furry friends! After pawing through its database of over 370,000 insured cats and dogs, Petplan pet insurance has revealed the top ten pet names inspired by the Star Wars universe.
In honor of the December 18 release of Disney and Lucasfilm's "Star Wars: The Force Awakens," these are the pet names you're looking for (ranked in order of popularity):
1. Chewbacca
2. Yoda
3. Wicket
4. Lando
5. Obi-Wan Kenobi
6. Boba Fett
7. Luke Skywalker
8. Princess Leia
9. Anakin
10. Jabba the Hutt
"Chewbacca" ("Chewie," for short) was naturally favored by more dog owners; lovable Ewok scout "Wicket" was also a popular canine choice. On the other hand, strongly represented by cats "Yoda" was.
Honorable mentions that didn't make it into the top ten include "Darth Vader" (the sole cat-only name), "Han Solo" (who definitely barked first) and "R2-D2" (who was presumably busy coming to the rescue of C-3PO).
"My entire family is getting excited about the new Star Wars film, so I thought it would be fun to look for the connection to pet names," says Petplan co-founder and co-CEO Natasha Ashton.
"Pet parents love their pets, and Star Wars fans are no exception. Naming pets for Star Wars characters is a fun way to honor both every day," she adds. And if she had to give her own dog a Star Wars-inspired name?
"I think I'd also go with Chewbacca. Offering a chewy cookie to Chewie the Wookiee — can you imagine?"
Despite insuring hundreds of "Chewbaccas," Petplan hasn't yet officially announced coverage for Wookiees. But for more information about its customizable insurance plans for dogs and cats, visit http://www.petplan.com.
###
About Petplan
Petplan is more than a pet insurance provider. We're dedicated to providing pet parents with the support, resources and tools they need to keep their pets not just surviving—but thriving—into their old age. Simply put, we aim to be the kind of company that will make our pets proud. For the third consecutive year, Petplan was listed among the top 50 companies on Forbes' annual ranking of America's Most Promising Companies – a list of 100 privately held, high-growth companies with bright futures. Petplan is the only pet insurance provider to have been included on Inc. Magazine's list of 500 fastest-growing, privately held companies in America.
Petplan's fully customizable cat and dog insurance policies provide comprehensive coverage for all hereditary and chronic conditions for the life of the pet as standard. Petplan policies are underwritten by AGCS Marine Insurance Company in the U.S. and by Allianz Global Risks US Insurance Company in Canada. The Allianz Group was rated A+ by A.M. Best in 2014. For more information about Petplan pet insurance, visit http://www.petplan.com or call 1-866-467-3875.