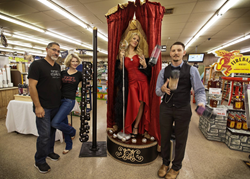 Can I get in that box?
Seattle, WA (PRWEB) October 27, 2015
The brand partnered with the creative team at Fred Meyer to launch its award-winning USDA certified organic craft cocktail line in the Washington market Halloween weekend. The Belles Organics 1L Tetrapaks offer much more than a tasty cocktail, as Seattle and Bellingham shoppers will discover this weekend. There's a lot of personality in that box!
The grass roots creative team launched its Belle in a Box tour in Louisiana with regional grocer Brookshires last week with a series of online videos of their adventures. Who knew so much could come out of a box? Find out this weekend at:
October 30th:
Fred Meyer - 100 NW 85th St, Seattle (12pm - 3pm)
Fred Meyer - 915 NW 45th Street, Seattle (4pm - 7pm)
October 31st:
Fred Meyer – 800 Lakeway Dr, Bellingham (11:30am - 2:30pm)
Fred Meyer – 1225 W Bakerview Dr, Bellingham (3pm - 6pm)
Currently, two of Belles Organics' 1L ready-to-drink award-winning flavors are available at 25+ Fred Meyers locations across Washington, including:

"The Belle on the Beach" (29.17 Proof/14.59% ABV): A twist on the popular bar cocktail that blends organic cranberries, oranges, agave, and organic 7x distilled wheat vodka with a splash of peach.
"The Beri Belle" (27.14 Proof/13.57% ABV): A spin-off of Belles Organics' secret recipe for organic Southern Lemonade that adds organic blueberries and organic 7x distilled wheat vodka.
Additional flavors are slated to be added in early 2016, and consumers can also head to http://www.bellesorganics.com to purchase official Belles Organics' merchandise, get recipe ideas, follow the Belles on tour, and much more to complete their Belles experience. You never know what this team will come up with next!
"This new partnership with Fred Meyer is just perfect, really, the retailer is known for its innovation and industry disruption. We obviously share that idealism, and it's refreshing to find a retail team that is actually willing to take the leap and partner with a small family run brand with big ambitions," commented Jessica Flores, Georgia-based Belles Organics Founder and CEO.
More information on Belles Organics is available on the web at http://www.bellesorganics.com, on Facebook at http://facebook.com/BellesOrganics, on Twitter at https://twitter.com/BellesOrganics, and on Vimeo http://www.vimeo.com/bellesorganics.
#FindYourInnerBelle
For all other information, including media inquiries, contact Jessica Flores at jess(at)bellesorganics(dot)com or (770) 382-5658.