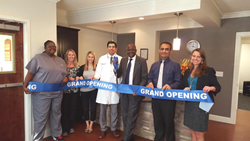 Unique staff-assisted dialysis program opens in Hershey PA.
Hershey, PA (PRWEB) October 29, 2015
On October 22, 2015 at 12:00 p.m. a ribbon cutting ceremony was held at 555 E. Chocolate Ave. to commemorate Illinois based Home Dialysis Services entering the Pennsylvania market with a new center in Hershey. The 3300 sq. ft. facility is the largest of the company's current locations and serves as a training center for patients on home hemodialysis and peritoneal dialysis. The Hershey clinic is the first location for the company to open outside of the Chicago, IL area.
Home Dialysis Services (HDS) offers an alternative to patients with End Stage Renal Disease (ESRD) who traditionally would be referred to an in-center treatment facility, where they would receive dialysis three times a week for several hours. With home dialysis, patients dialyze in the comfort of home for a shorter amount of time, which gives them the ability to continue working, travel, go on vacation, and continue normal day-to-day responsibilities.
According to CEO, Dr. Babajide Salako, "What makes our organization different from many home hemodialysis programs is that HDS offers staff-assistance for qualified patients. This is beneficial to patients who may not always have a care partner available to help them with hemodialysis, and is another way we give ESRD patients freedom to continue a normal lifestyle."
The location offers both home hemodialysis (HHD), which removes wastes from the body similarly to machines used in-center, and peritoneal dialysis (PD) which does not require the need of any needles or blood. Staff-assistance is available for qualified home hemodialysis patients who don't have a care partner. More information can be found on the company website at http://www.HDSdialysis.com.
CEO, Dr. Babajide Salako, Medical Director, Dr. Umar Farooq, Derry Township Economic Development Manager, Lauren B. Zumbrun, and some of the HDS team were in attendance at the event.
###