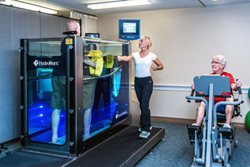 "This is the debut of the 300 Series to the active aging marketplace," he says. "It's a chance for us to show this incredible product in action, and to showcase just how profoundly it can change lives."
Middletown, PA (PRWEB) October 29, 2015
Individuals representing senior housing, home and community-based services, assisted living, skilled nursing and continuing care retirement communities from around the nation know that the annual LeadingAge Annual Meeting and Expo conference is the place to find the most innovative strategies, tools, thought leaders and innovations for their residents.
This year, HydroWorx will unveil its newest therapy solution, the construction-free 300 Series. The free-standing 300 Series has been engineered using the same revolutionary principles and technologies as HydroWorx's pools. However, its compact size and modest footprint allow it to go practically anywhere, thereby increasing the amount of people who can benefit from rehab and wellness through water's buoyancy, resistance and hydrostatic pressure.
The LeadingAge Annual Meeting and Expo theme for 2015 is "Be the Voice", which HydroWorx feels is a good description of their key mission to internationally share the message of water's healing and rejuvenating properties when it comes to therapy solutions and practical exercise options for any person, regardless of age or ability.
Anson Flake, co-founder and CEO of HydroWorx, is excited to show this newest piece of equipment. "This is the debut of the 300 Series to the active aging marketplace," he says. "It's a chance for us to show this incredible product in action, and to showcase just how profoundly it can change lives."
Some of the main advantages of the 300 Series include:

An underwater treadmill that offers speeds from 0.1 to 10 mph in safe 0.1 mph increments.
Resistance therapy jet that can be used for balance training or a deep tissue massage.
The product gives participants the freedom to perform multi-planar exercises.
The water depth can safely and precisely be adjusted with the touch of a button.
It can fit through a standard 36" doorway, making it superbly mobile.
It requires a small footprint allowing it to easily be installed in an existing therapy or wellness area.
Demonstrations of the HydroWorx 300 Series will take place at the LeadingAge Annual Meeting and Expo from November 2-4, 2015, in Boston, MA, at Booth #1041. Interested attendees of the LeadingAge conference can schedule a time to get in the 300 Series, as well as receive a free, customized return on investment package from HydroWorx.
In addition to the unveiling of the 300 Series, HydroWorx will provide desserts and drinks on November 2 for early bird visitors. HydroWorx T-shirts and the chance to win a gift card will be available to those who fill out a short market survey. Participants will also have the opportunity to meeting with industry expert and research specialist Dr. Dennis Dolny, PhD, a faculty member at the University of Utah, who will share his experiences regarding the scientifically-backed benefits of warm-water therapy for an aging population.
# # #
About HydroWorx®
Since the late 1990s, HydroWorx has manufactured aquatic therapy pools with built-in underwater treadmills to enable physical therapists to more effectively offer their patients the opportunity to increase range of motion, decrease risk of falls and joint stress, and remain motivated through the rehab process.
Products such as the HydroWorx 2000 and 500 Series therapy pools, along with the new construction-free HydroWorx 300 system have revolutionized the face of aquatic therapy; in fact, HydroWorx technology is used by world-class facilities such as Presbyterian Village North, ClearChoice Health Care, PowerBack Rehabilitation by Genesis Healthcare, Carolina Village Retirement Community, Lakeview Village, PruittHealth and many other senior living communities across the country.
HydroWorx offers a wide range of underwater treadmill pools and peripheral products and services. Every day, more than 24,000 athletes and patients use HydroWorx technology to recover from injuries and health conditions.
More information about HydroWorx can be found at http://www.HydroWorx.com.